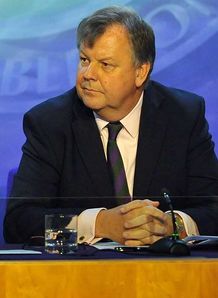 Related links
Teams
Also see
RFU CEO Ian Ritchie has rejected a proposal from the Welsh Rugby Union to play the Rugby World Cup group match between England and Wales in Cardiff.
WRU boss Roger Lewis suggested following Monday's draw that England might want to play their group clash in the "greatest stadium of the world", but Ritchie has declared that ahead of the upcoming £76 million investment on Twickenham Stadium, that the venue will be more than adequate.
"We have a very nice home of our own and I would hope very much we would contemplate playing the match here," said Ritchie.
"With our modest little stadium here at Twickenham, with the further investment we might be able to make it into a decent spot to play rugby.
"We equally believe we are very good hosts here and that we could hold a decent game here and would very much want to do that. Shock, horror and astonishment that I would suggest that!
"We will not get a better opportunity to inspire people to play rugby, be volunteers and participate in rugby.
"We are putting the building blocks in place to make sure we can take the most advantage of having the World Cup.
"The draw brings up all sorts of things about who plays where. There is another three months before we get to a conclusion on which venues we will select.
"How do we inspire the game around the country and who plays where? It is a complex matrix and as a member of the board we have a responsibility to look at the total competition."