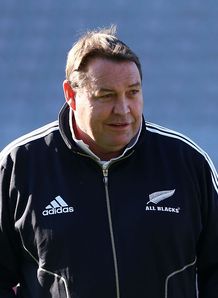 Related links
Teams
New Zealand head coach Steve Hansen admits that he has little sympathy for Wales ahead of the November international in Cardiff on Saturday.
Wales have lost their last two consecutive Test matches against Argentina and Samoa, adding to a 3-0 whitewash during their June tour of Australia to leave them facing New Zealand on the back of five defeats in a row.
With plenty of heavy criticism thrown towards the Welsh camp over the last week, Hansen expects a steely resolve from his old side, although the "return" of Warren Gatland to the coaching set-up is an element that he feels has been overplayed.
"I didn't know he had left! He only had Saturdays off, let's be honest about that. The bottom line is he's been involved," said Hansen.
"I don't have too much sympathy for them - I am in the opposition camp these days! But what it does do is I know it will make them tighter. Invariably, when they get criticised, they get tighter. It will make them more dangerous, I think.
"You have got to remember there are two teams playing, and the opposition only allow you to do so much. The opposition have the right to be able to come at you and do what they want to do. We have got to keep our composure in those moments and wrest back momentum.
"As long as we stay connected, keep our composure, keep to our game and things we know we can play, the opportunities will come for us and we have got to take those opportunities.
"I am not taking too much notice of their recent form. They are Grand Slam winners, they are semi-finalists (World Cup), and we know for sure this (New Zealand game) is the one they are chasing. We have to be up for it."
Hansen coached Wales from 2002-2004 during a tough time for the national team, but despite a lack of results Hansen remains proud of the adjustments made within the national game during his time in charge that would lead to three Grand Slams over the next seven years, including one under Hansen's successor, Mike Ruddock, in 2005.
"It was a hard time, a tough time, because we instigated a lot of change while I was here," added Hansen.
"We weren't that successful on the scoreboard for a long time, but as I said at the time reality is reality and we had to keep working hard in trying to get to a point where we could compete.
"We did that in the end, and I think we left it better than we found it. But, in doing that, I think there were a lot of things I learnt about myself and about coaching.
"You have certainly not just got to work hard, but you have got to work smart in the tough times. You have also got to keep your sense of humour. You learn a lot about people when you are really under the cosh, and this game is about people, it is about managing people.
"We played some reasonable rugby in the end, we restructured the rugby and a lot of good things happened. Am I proud of it? Yeah, I am pretty proud of what we did during that time."