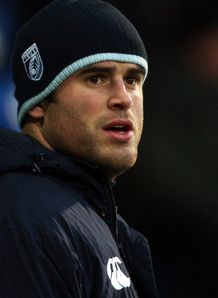 Related links
Teams
Wales centre Jamie Roberts has admitted he is undecided whether he will extend his contract with Cardiff Blues, which expires at the end of the season.
The 26-year-old, who marked his return to action last week after five months out with a knee injury, has long been linked to a lucrative move across the Channel with Toulouse believed to be possible destination.
While the Blues are hopeful the British and Irish Lions centre will stay, Roberts, who has been with the region since 2007, is not willing to make a commitment yet.
"I haven't got a clue what I'm doing next year. I'm completely undecided," Roberts told the BBC.
"I haven't got a clue if I'm staying yet or going. Obviously my contract's up and I will have finished my medical degree.
"There's a lot to be resolved and hopefully over the next couple of months we'll get that all sorted. It's quite an exciting place to be. It's the first time in my life where I won't have any commitment with any university work. It is a big crossroads, and who knows. I haven't got a clue.
"What a player does is very individual and everyone has got different circumstances - family, financial circumstances and they all play a huge part in decisions," said Roberts.
"They'll certainly play a huge part in mine, and we'll see. There's a hell of a lot to weigh up and there's a huge crossroads in my life."
Blues coach Phil Davies is keen to keep the 46-cap international in Cardiff.
"It's important we keep all our best players and Jamie's no different," said Davies said.
"He's doing well for us at the moment. I've been in this game for a long time and we've got some great players here. We want to keep all of them obviously and hopefully Jamie will be no different in wanting to stay."