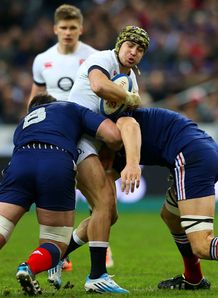 Related links
Teams
Also see
England head coach Stuart Lancaster has responded to wide criticism of his substitutions during Saturday's narrow loss to France.
The England boss had come under fire for replacing in-form scrum-half Danny Care among others, with Sir Clive Woodward claiming that the "responsibility falls on the management not the players".
"I don't think the replacements were the reason we lost the game. I was certainly pleased with the impact all the substitutes made," said Lancaster.
"The biggest reason we lost the game was the start more than anything else. To be 16-3 down is one hell of a mountain to climb in that arena.
"Hindsight is a wonderful thing in every component piece of the game.
"If we'd have dealt with the kick off, perhaps we wouldn't have conceded the first try.
"If Danny Care had been 1mm further forwards perhaps he would have scored that try. There are lots of ifs, buts and maybes about the game.
"I have to trust the squad and the one thing I've learnt is that we win and lose as a team.
"I won't hang anyone out to dry or look at any decision we made in any other context than what we do next to help the team win."
England are on the road again this week as they travel to Murrayfield to face Scotland.