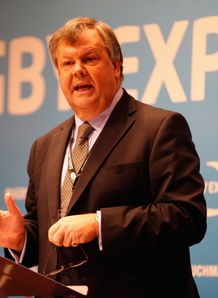 Related links
Teams
Also see
RFU chief executive Ian Ritchie believes English participation in European competition can be salvaged for next season and says the RFU is working on arranging a deal between their European counterparts and the breakaway English clubs.
Ritchie insisted the RFU would look to resolve the crisis following week's statement by English clubs that they would not compete in next season's revised tournament
Unofficial talks between Twickenham officials and the other five unions are taking place on a daily basis and Ritchie is optimistic that the obstacles preventing an agreement on a new tournament involving all six competing nations - framework, voting on commercial rights and broadcasting rights - can be overcome.
"We must understand the consequences of failure - they are not a good thing," said Ritchie.
"We are in a better place if we have a proper pan-European club competition.
"The alternatives are lesser to the ones we believe we should be working towards," he added in reference to the proposed Anglo-Welsh league.
"All parties want to get a pan-European competition. I don't know of anyone who doesn't want that. Everyone wants it, the question is how we get there.
"We owe it to the fans, players and everybody involved in rugby to make sure we get this agreed. All of us have an obligation to bust a gut to reach an agreement.
"We need to get in a room as a matter of urgency and get proper, focused discussions to agree on the outstanding matters.
"That's what we've been trying to do because the prize of getting it right is infinitely preferable to the alternatives."
On Tuesday he outlined his view on each of the perceived obstacles:
FRAMEWORK
"This issue is still clearly a problem. The options of European Rugby Cup, the Six Nations or a new body have been discussed at various times.
"We believe the Six Nations option was a perfectly acceptable solution to the problem. Many of us felt it was a good solution, if the French felt it wasn't, we must address that.
"ERC was actually born out of the Six Nations to develop a club competition. ERC and Six Nations shareholding are exactly the same."
COMMERCIAL RIGHTS
"What had been discussed in detail was that the RaboDirect PRO12 teams would get a protected financial distribution for five years of a minimum of £16.77million per annum, rising to £20.12million if the revenue raised from the tournament climbed above £50.3million.
"If you want that protected with a guarantee that is underwritten by the English and French, you can't take that guarantee and then say you want a majority say on how the rights are controlled.
"Either you split the commercial rights three ways or you take the guarantee."
BROADCASTING RIGHTS SKY v BT SPORT
"You can't resolve the broadcasting situation until you can say here's the product.
"Let's focus on getting our act together, finalise the competition and then address the situation with the broadcaster.
"If we don't resolve the broadcast situation, (it will be) because nobody will have the perfect solution."