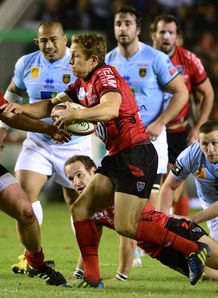 Related links
Teams
Also see
Moving into coaching could become an option for Jonny Wilkinson, when he retires, but only after he takes a break from the game.
The former England number 10 has in the past been linked with a move to the NFL but he feels if he goes to the USA it would be more about learning than playing.
"I have thought about the NFL a bit and would love to go over to America and learn from those guys a little bit and mess around a bit and see what that's like," he told Sky Sports.
"But, for me, when I give up rugby it will probably be because I'm too tired to do anything.
"There are no immediate plans to do anything crazy different, apart from take a break. I've never really had a break, despite having three-and-a-half-four-years of very interrupted rugby through injury.
"I've never had that break that people have when you stop playing. That's something I've really got to understand, life without that and what that's like."
Coaching appears to be the logical move for Wilkinson after retirement, and when he returns from a sabbatical that appears to be what he will be doing.
"I think taking time away is hugely important, doing something different is hugely important," he added.
"I need to consciously fully grasp the fact that I'm no longer playing at that point and when I'm stood on the sideline I'm not itching to get on. But, at the same time, I think the time away needs to serve as a beginning of the research angle and the learning process.
"Coaching isn't about playing rugby, it isn't about taking what you did when you were playing rugby and showing other people how to do it, coaching is about support, man-management, it's about language, it's about all kinds of things - structuring sessions through to understanding acquisition of skills, mental fatigue, it's about understanding personalities, everything. I think that is going to take time.
"I've been doing a bit of coaching at the moment, individually with the younger guys or any guys that have asked me. I've started to move along that road already, but it's helped my play as well."
And although the 34-year-old is still playing, he admitted the time for change was close and that it's important to "listening to your body".
"For me, at 34, I'm getting some voices in my ear about coaching, my head is telling me some strong words about that, and I'm getting some strong words about playing and trying to get better all the time."