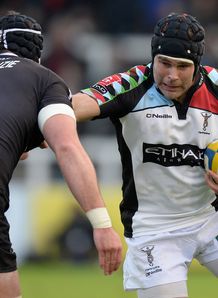 Related links
Teams
Harlequins director of rugby Conor O'Shea has again backed veteran forward Nick Easter for an England recall, calling him "astonishing".
Easter, playing at lock on Sunday, was excellent for Quins as they picked up a 35-9 bonus-point victory over Newcastle Falcons at Kingston Park.
And his boss was delighted with the performance and revealed that he wants to speak with England head coach Stuart Lancaster about Easter's form.
"He was superb," said O'Shea after the win.
"He stole a couple of line-outs and threw a couple of passes out of the back of the hand.
"If it had been me they (the passes) would be in the back of the stand; with Nick they go straight to the player.
"I will be talking to Stuart again about him because I just think he is astonishing. He has so much versatility, so much going forward and he came up here with just one thought and that was not to be second best.
"Wherever you play him his a pretty big force. I'll being seeing Stuart and he knows I will be banging the drum for Nick. He always knows I will, but it is for a reason.
"You lose credibility if you bang it for no reason and I'm looking at a player that week-in and week-out is one of the top performers in the Premiership.
"He's a phenomenal guy to have and we're lucky to have him. The same can be said of Danny Care. England are very fortunate to have him, Danny wins games and he was brilliant today.
"(Dave) Ward got man of the match, but Danny was at the centre of everything and Stuart knows England are very fortunate to have players of that quality. When Danny gets his chance I now he will take it."