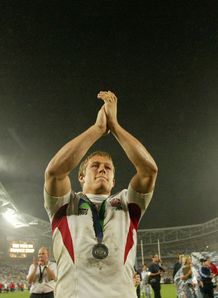 Related links
Teams
Also see
On the ten-year anniversary, former England fly-half Jonny Wilkinson has discussed the moment his drop-goal sealed World Cup glory.
Wilkinson, currently captain of Heineken Cup champions Toulon, secured the win in extra-time against Australia in Sydney back in 2003.
Speaking a decade later this week, the 34-year-old revealed he had never seen a full replay of the final and that the whole experience looking back felt like watching a stranger in his place.
"I've seen the highlights and key moments but never sat down and watched the match. I've tried to preserve the quality of the memories I have, which are wrapped up in the feel, the senses, the smell, noises and atmosphere," Wilkinson told the Guardian.
"I'd rather keep it in that first-person experience, rather than watching it back which can taint the memory. I want to keep this one exactly as I remember it, which was one hell of an experience. I don't think there will be too much in the future that matches it for sheer intensity.
"It does genuinely feel like a lifetime ago. So much so that, to a degree, it feels like a different person was there. So much has gone on since then; it's not really been a straight line. But the preciousness of it doesn't go away. It hasn't lost any of its power or brightness because time has passed."
Maintaining a clear state of mind despite the intense pressure of the situation allowed Wilkinson to make the kick that mattered, having missed a previous three drop-goal attempts up until that crucial point.
"I was thinking that because of where the guys had put me, I cannot miss ... this has to go over. I almost remember feeling: 'The others drifted wide but this will go over'. I knew it would go over from fairly early on," added Wilkinson.
"What surprised me was I actually got lost in that moment. I didn't know where I was. I remember half celebrating ... it felt like a surreal, dream-like situation. Then there was the realisation there was still time left. I really wasn't up for a third game-tying penalty from them before the end."
What followed for the then 24-year-old was unexpected, as his actions brought him global adulation and fame but also began a run of major injuries that kept him out of Test rugby for years.
Focusing on his more immediate memories in the hours after the match and the next morning, Wilkinson revealed that the comedown from the emotional high of winning the Webb Ellis Cup threw him.
"There was a private party for the guys but by that point I was spent. Everything had taken its toll," stated Wilkinson.
"I knew that before I woke up the following morning that's as good as it would probably feel. I realised that, at 24 years old, I couldn't afford to let that be the pinnacle of my career. It would have been nice to say the pressure was off but, unfortunately, I put the pressure back on to myself."
"I was disturbed the next morning by how quickly the atmosphere changed at the hotel. We were having breakfast and it was quiet. Some of the guys were talking about it at breakfast but there were families there who were talking about what they were going to get up to on holiday. You realise it may be the biggest thing for you right then, but it wasn't for everyone else.
"After all that time and effort, I thought: 'What now? Why hasn't my life changed hugely?' My misguided approach was believing I'd wake up and things would be very different."