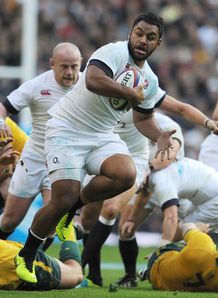 Related links
Teams
England number eight Billy Vunipola has admitted he will continue to hold back on his carries as he looks to keep teams guessing in November.
Vunipola was impressive on his full debut as the English defeated Australia 20-13 on Saturday.
But the 20-year-old, who is renowned for carries, admitted he is being selective on when he takes the ball up so as to avoid becoming predictable.
"I concentrated on not trying to force things. If I'm always carrying then people target me," he told Press Association Sport.
"If I pick and choose I'm more likely to make a break or offload.
"We talked during the week about not trying to force things and I think I did that well.
"In the Toulouse game recently I forced it a little bit and became a bit predictable, but against Australia I was much better."
Vunipola lined up alongside Saracens club-mate Mako for England against the Wallabies, with the number eight admitting it was a special day for the family, particularly at the anthem.
"It was awesome, I don't think having your older brother standing by you for the national anthem can be topped," he said.
"It was such a brilliant experience. I could feel the emotion coming on the bus.
"It was on the bus that I realised this was my lifelong dream, me and my brother's. I hope it's the start rather than the end.
"We talked together, especially at scrum-time because I wanted to give him as much confidence as possible."