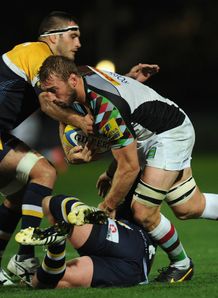 Related links
Teams
Harlequins boss Conor O'Shea sang the praises of skipper Chris Robshaw after his team crushed Worcester at Sixways on Friday.
Quins bounced back from last week's home loss to Northampton in emphatic style, scoring four tries to win 37-13.
Robshaw put in a sterling performance to add fuel to the fire in the debate over who should captain England in November after media reports this week suggested that Saints flanker Tom Wood would retain the role handed to him during the June tour of Argentina.
"I see a lot of speculation about Chris," said O'Shea.
"How anyone could ever not put him on a team sheet is beyond me. He is absolutely magnificent.
"You read about things, and I look at this bloke and I see what he does. I have spoken to Stuart about it (the speculation) this morning, and it's rubbish.
"Being the England captain is not an easy job, being an England international in any sport is never an easy job, but Chris has had a couple of years with that sort of pressure.
"To come out and play and lead like he did tonight, he was brilliant."
O'Shea had plenty of praise for the rest of his team too following the bonus-point win.
"I love watching them play rugby when they play like that, and anyone who doesn't shouldn't be watching rugby. We put a marker down tonight," added the Quins coach.
"I was really pleased with the way we played, the way we went about things. Worcester won six out of seven games here under lights last season. It is not an easy place to come."
Worcester slumped to one of their biggest home losses in the Premiership and Director of Rugby Dean Ryan didn't mince his words.
"The scoreline was a true reflection," said Ryan in the wake of his team's third successive league defeat of the season.
"Let's not try to dress it up, we were well beaten within 50 minutes. We can't cope with that intensity.
"We didn't have an answer to their off-loading game, and when you are under that much stress, something is going to give. We went down to 14 men, and it just gets harder and harder.
"In the second half we showed an awful lot of courage and worked really hard to try to stay in the game, but we were second tonight by some distance.
"That was a top of the table side that found some form tonight. It was as sharp as I have seen them for a while."