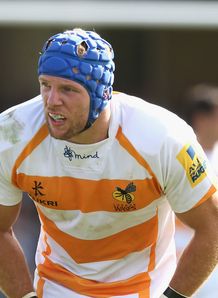 Related links
Teams
Also see
Fresh from undergoing knee surgery and on the mend, James Haskell is determined to work his way back into the international fold.
The loose forward went under the knife to correct a long-standing knee injury that has plagued him for nearly 10 years after finally finding he was unable to push any further.
"My knee wrecked because I was falling on it all the time," Haskell said of his injuries. "It affected me quite a bit. I came back from Japan and New Zealand with tendinitis in both my knees.
"It was debilitating, like running with bits of wood in front your knees. You can't bend, can't jump, can't explode or be powerful.
"I managed to get myself into a position to keep playing, but by that last game of the Six Nations I just wasn't able to perform.
"And then I had the issue with the bursa, which just made the tendinitis worse.
"I was probably operating at only 70 per cent last season. I managed to string some good games together for England and Wasps, but was not where I wanted to be."
The 28-year-old did not tour South America with England and has lost his spot in Stuart Lancaster's England Performance Squad. He now faces a stiff challenge to unseat the incumbents when he returns to action in October but it's one he's ready to meet head on.
"I wasn't surprised when I dropped out because I wasn't part of the tour to Argentina in the summer," he admitted.
"Matt Kvesic has been playing very well, Tom Croft is a double British and Irish Lion and Tom Wood is playing well."
However, the Wasps man will not be hinging everything on making an immediate impact on his return, realising that it may take time to work his way back into contention.
"I've said to Stuart that I'm desperate to play for England, but I'm also happy to sit under the radar and build myself back up with Wasps," he added.
"It's always difficult when you've been out of the mix for a while, you start looking at the other guys. There's a lot of talent around and you need to perform."
"Slow and steady wins the race to come back. I don't expect to come back and be unbelievable, although this is the first proper rest I've had in the last five years. It's an opportunity during a non-stop career for 10 years to take my time and come back in good shape to play for Wasps and England.
"I'm older and wiser. I have my 50 caps for England and that can't be taken away from me."