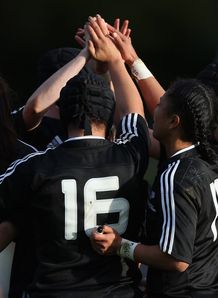 Related links
Teams
New Zealand coach Brian Evans was happy with the complete showing his Black Ferns side made in their 29-8 victory over England in Pukekohe.
Playing in front of a 1620 crowd, the Black Ferns created opportunities and put on a big defensive display to capitalise on the English errors.
"We talked a lot earlier in the week about getting a good start and I thought we did that. The first five minutes they dominated but when we got a bit of hand on ball, we did well," said Evans aftewards.
"The breakdown, I still thought they were really strong, in fact I still think we struggled at times to live with them. I was really pleased with our defence, our line speed was awesome, we were getting up really flat and really pushing them and I think it showed with some forcing the errors."
Captain Fiao'o Fa'amausili added: "It felt awesome, we came here to put our stamp on the series and that's what we did. I think we really came together and we wanted to start on the whistle and that's what happened. The English came back at us in the second half and we just bounced back again so I think the girls lifted at the right times in the game.
"We ticked some girls getting their debuts and some girls winning in the black jersey and that's what we've come out with. We're really happy and the senior players are stoked because we've been on a losing streak and now we know the whole team is on a winning side now."
Meanwhile, England captain Sarah Hunter said their three losses in the series was tough to take for her team.
"The whole series is not what we wanted to achieve. We came here to win the Series and obviously that didn't happen. We had really focussed to come here and finish on a high and unfortunately it didn't happen that way. We gave New Zealand a bit of a head start in the first half and it's a long way back against a side as good as New Zealand to give them that head start and to fight back. But all credit to the girls we dug in deep right to the end," she said.
England coach Gary Street added: "There are still parts of the game where we were pleased with and that we'll look at, but we came here to find out where we really are 12 months from the World Cup. We've got a massive programme going forward and to come to New Zealand playing the best opposition we can, gives us a real grounding for where we are."