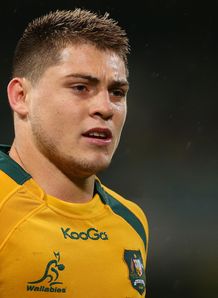 Related links
Teams
James O'Connor's proposed move back to Australia is dependent on World Cup assurances from Ewen McKenzie, according to L'Equipe.
The versatile back has been strongly tipped for a return to Australia this season with the Reds expected to announce his signature on Friday.
O'Connor is currently playing for Toulon, who he joined over the off-season, but he has a clause in his contract which would allow him to return to Australia for the 2015 Super Rugby season and the World Cup.
Having previously played for the Force and the Rebels, he has been tipped to join the Reds on his return, with the news due to be confirmed on Friday according to the Australian press.
However L'Equipe has revealed that O'Connor may still be considering his options, and that the talented Australian wants some assurances from McKenzie over his place in the national set-up before he makes the move.
"James has two options," a source told the French sports daily.
"Either McKenzie guarantees him a place in the squad for the World Cup, and a real role in the team. In this case O'Connor would return to Australia in January or February.
"Or James feels that he is being recalled simply to make up the numbers, with no guarantees, in which case he will stay at Toulon."
The 24-year-old has 44 international caps to his name and recently signed a three-year deal with Toulon.