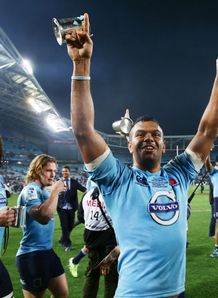 Related links
Teams
Waratahs coach Michael Cheika is confident his side will be able to retain star Kurtley Beale when they defend their Super Rugby title.
The 25-year-old has been the subject of a great deal of transfer speculation, with a number of NRL teams rumoured to be keen on bringing him in.
Earlier in the year he had expressed some concerns about where he stood for the Wallabies, but after Beale helped the Waratahs to a maiden Super Rugby title, and started Australia's first two Rugby Championship matches, Cheika is confident a new deal is imminent.
"It looks like it's going better, so hopefully something's going to happen there in the next week or two," Cheika told the Sydney Morning Herald.
"It's been done with the Australian Rugby Union but I'm hearing it more from Kurtley's side, so hopefully it will all work out."
A new deal would be a massive boost for the Waratahs, and while Cheika is not taking anything for granted, he admits a deal is much closer than it was a couple of months back.
"Because I've been out of it, I haven't been involved in the recruitment process, it's not been that easy to get a read," Cheika added.
"There was a point there where they were talking about league and there was some serious interest, and there probably still is, but I like to think what we've done here over the season but also the last two months [will help].
"He really came to the fore over the last two months, got his game really motoring.
"You'd like to think that good feeling he's got will carry into another season. Obviously there's the opportunity for a World Cup at the end of next year, which is very hard to resist.
"I'm not taking it for granted, because it never is until it's signed, sealed and delivered, but I'm a lot more positive now than I was a month or so ago. I would like it to get done."