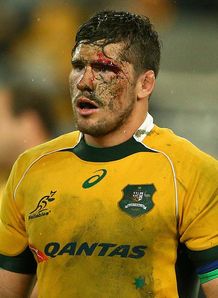 Related links
Teams
Also see
Australia hooker Nathan Charles prefers to make his name on the pitch against the All Blacks rather than because of his route to the top.
Charles suffers from cystic fibrosis but all the talk since his first start for the Wallabies last weekend has been around his impressive performance in Sydney, making our Team of the Week.
The Western Force star has never used his illness as an excuse and would rather draw attention to the hard work he's put in to reach the top, which included time with Gloucester in England.
''I don't like sympathy and sometimes I feel like people say 'Jeez, he's done well, given where he's come from' rather than 'he's done well, because the Wallabies are a hard team to crack into','' Charles told Stuff.
''There's a lot more to this than just taking a few pills, I busted my arse to get here.''
After a first start in Sydney in horrendous conditions, Charles revealed his conversation with All Blacks hooker Keven Mealamu and the respect held between the two players.
''He came up to me and congratulated me on my starting debut and said 'Well done and look forward to seeing you next week','' added Charles.
''Since then we have formed a little bit of a friendship. It was a pretty short conversation (last Saturday) but that's the great thing about rugby.
''During 80 minutes you are enemies, but as soon as the whistle goes you congratulate each other on the game.
''The opposition never give me any sympathy. There's levels of respect like that I have with Keven Mealamu. I think he's a real gentleman of the game but once I'm on the pitch he's not going to give me an inch.''