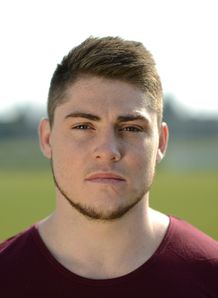 Related links
Teams
Also see
Following his first day training with new club Toulon, James O'Connor reiterated his desire to play for Australia again. If possible.
O'Connor has joined the Top 14 and European champions after a stint with London Irish in England.
Putting his off-field incidents behind him, the 24-year-old is expected to return to Australia for Super Rugby next year, but couldn't reveal whether that would be the case.
"I can't say much because I don't really know myself to be honest," O'Connor told Rugbyrama.
"Of course I want to play in the Rugby World Cup and wear the shirt of my country once again. But there are lots of rules and it's complicated.
"I'll continue to discuss with the powers that be if it's feasible. But for now, I want to focus on what I'm doing here at Toulon and to win titles.
O'Connor was quizzed over the incidents off the field that saw his contract with ARU terminated in 2013, reiterating that those times were long gone.
"That's all finished and behind me. Now I'm in an ideal environment. I'm concentrating on playing well and winning titles. I think this is the best place to do that," stated O'Connor.
"I feel very good. It's just my opinion, but I feel like I've joined the best team in the world.
"I've met some of the squad and we've had a weights session and then a run. The vibes are good. I hope that we'll have a great season after what was achieved last time.
"The team was very competitive and achieved great things. This year there's even more competition in the squad and I think that'll help the performances of the team."
O'Connor added that his integration has been made easier by the presence of Matt Giteau and Drew Mitchell, who O'Connor played with at the Western Force.
"I'm staying in Carqueiranne, not far from Matt Giteau. It was my birthday on Saturday so he invited me round to celebrate turning 24," revealed O'Connor.
"When I was 17 I played with Giteau and Drew Mitchell with the Force - we've stayed friends, so I'm glad to have them here."