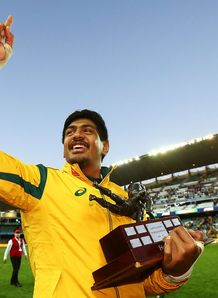 Related links
Teams
Having watched his Test team-mate Will Skelton shine on debut against France, Scott Fardy has come up with a unique way to stop him.
"I might try to break him out of his shoes, it might take him a while to get back into them. Just rip one off, throw it into the crowd and see if he can get a new one," Fardy told the Canberra Times.
"I think they're about size 17 and made in America for gridiron. There aren't too many of those going around."
The 140kg, 6ft 8 giant scored an impressive try in Sydney last weekend and won lavish praise for his performance.
Now back with their respective franchises ahead of an all-Aussie derby this weekend as the Brumbies play the Waratahs, Fardy had nothing but praise for the 22-year-old Skelton.
"He's definitely a good player, I enjoyed playing with him," added Fardy.
"He has such a big physical presence and it's something Australian rugby hasn't had in a while."