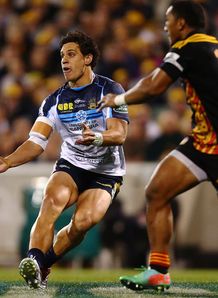 Related links
Teams
Despite interest from the Rebels, Matt Toomua will remain with the Brumbies until the end of 2017 after signing a three-year extension on Wednesday.
As one of just two players to have been signed to full-time Brumbies contracts from school, Toomua's new deal will see his relationship with the club stretch to ten seasons.
Born in Melbourne and raised in Brisbane, Toomua has come through the Australian rugby ranks from Queensland Schools to Australian Schools, Brumbies and Wallabies.
His trip to the top was hampered by injuries through the first four years of his career, but since the start of the 2013 season Toomua has strung together the most consistently high-quality rugby in a Brumbies number ten jersey since the days of his head coach, Stephen Larkham.
"I'm really happy to have this sorted out, it was always my first preference to stay with the Brumbies and in the end things worked out so that was possible," said Toomua.
"I came here as a kid really, so Canberra has been where I've done the majority of my growing up and it's home. I've got a place here, my family are living here and I feel like it's the best fit for me moving forward.
"Last year gave me a taste of what's possible when rugby in the ACT is flourishing. When the Brumbies are playing well, there is always a flow-on to the Wallabies and it's been nice to experience international rugby with so many of my close friends."
The three-year extension has been matched by a Wallabies contract, which will see Toomua representing Australia well after the Rugby World Cup in England next year.
After 58 Brumbies appearances and ten for the Wallabies, Toomua emerges as a player who coaches will be looking to build their sides around both provincially and internationally, long-term.
"Pup's only 24 and already one of the best players in world rugby," said Larkham.
"He knows our game better than anyone else here, he is unselfish and hardworking and extremely mature, so naturally we are thrilled that he has signed for the next three years.
"Matt's defence earns him plenty of praise, but I think his attacking play over the last 12 months has been a huge part of our success. The try he put Tevita away for in the semi-final last year was outstanding and his double against the Chiefs really set the tone of the evening."
Toomua's re-signing will come as a boost for the Brumbies as they prepare to face the competition-leading Sharks on Saturday night.