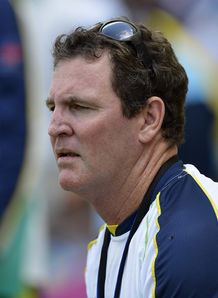 Related links
Teams
Australia's Sevens coach Michael O'Connor has resigned from his position ahead of this year's Commonwealth Games and Olympic qualifying in 2015, citing family reasons.
54-year-old O'Connor has been in the job since 2008, but the position was recently made full-time in Sydney, taking him away from his home in Queensland.
"With the Sevens programme recently moving to a full-time base in Sydney, and with the international travel to tournaments, it simply meant too much time away from home," he said.
Despite his departure, O'Connor is confident Australia team can continue making inroads on heavyweights New Zealand and South Africa, and win a medal at the Rio Olympics in 2016 where the sport will make its debut.
"We're catching up to other countries. You'll see big improvements for these boys in the next couple of years," he added.
The Australian Rugby Board said a global search for his successor would begin immediately.