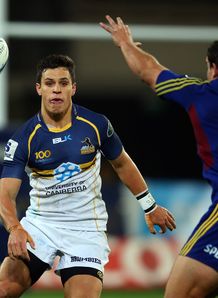 Related links
Teams
Also see
Wallabies inside centre Matt Toomua does not believe that Ben Mowen's decision to quit the Wallabies will mean others follow him.
Mowen revealed last week that he would leave Australian rugby at the end of 2014 to take up a contract in France, despite being captain of the Wallabies one year out from the Rugby World Cup.
Toomua though stated that Mowen's situation was unique and backed his character and decision to focus more on his family.
''Benny's situation is unique, he's got a young family and he wants to spend time with them. I can vouch for that as a guy who hangs out with him a lot,'' said Toomua.
''I don't know what guys are going to do post the World Cup (next year). Four years ago they said there was going to be a mass exodus after the World Cup and there wasn't.
''I don't know what the flow-on effect (from Mowen's exit) will be, but there's still a lot to be achieved here and a Wallabies jersey does hold a lot of weight, otherwise everyone would be overseas.
"It's not about playing two games, it's about playing a lot of games, and personally that's how I feel.''
Brumbies coach Stephen Larkham previously confirmed that Mowen will be the club's captain for the coming season, but added that no decision had been made yet regarding who would succeed Mowen in 2015.
''There are a number of guys who will put their hands up this year and we'll wait to see how those guys develop,'' said Larkham.
''(Toomua) has shown leadership and has developed. A lot of those guys have Wallabies experience now.
''Ben's the best person for the job at this stage and the guys in the leadership group prior to Christmas did a really good job. They'll put their hands up through this year, but we'll decide on it after this season.''