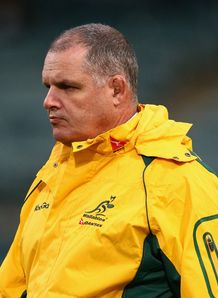 Related links
Teams
Also see
Ewen McKenzie has defended his choice to suspend six Wallabies who stayed out late and drank alcohol in Dublin on Tuesday.
The Australian coach's decision to dish out one-Test bans to the likes of Benn Robinson, Nick Cummins and Adam Ashley-Cooper was met with mixed reaction.
But McKenzie argues he was right to take such a hard-line stance.
"They've been given the privilege of being a Wallaby," said McKenzie.
"And with that becomes a responsibility.
"This business is about making sacrifices. It's not about going on a Contiki tour of countries.
"This is not a pub trip."
The coach - a former Wallaby prop, winning the World Cup in 1991 - also acknowledges that the rules he has enforced so strongly this week are not new ones.
"I'm not draconian and say you can't drink forever," said McKenzie.
"It's never been any different. We play on Saturday night. You have a beer after the game and then you move on.
"The only variation from that is you can have a wine or two at the (Tuesday night) team dinner.
"Some guys are borderline but in the end it's a strong message to say 'understand where we're going'.
"I'm in the business to make the team that's best as possible. I've been there before."