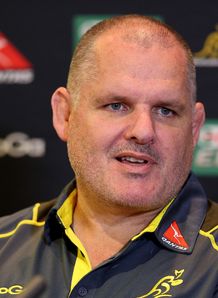 Related links
Teams
Also see
Australia coach Ewen McKenzie was irked by a string of refereeing calls that had a bearing on his side's clash with England.
Saturday's match at Twickenham ended 20-13 to the hosts, but the Wallabies were left feeling aggrieved by two decisions made by referee George Clancy and his assistant, Dudley Phillips.
Firstly, Phillips failed to spot Mike Brown's feet in touch as he tracked back to cover an Australian kick deep inside his own 22.
From the resultant counter-attack, the visitors were left throwing in to a line-out five metres from their own line, from which Chris Robshaw scored a crucial try for the home side.
"That was a 90 metre turnaround and there's seven points at the end of it," said McKenzie.
"Theoretically, we should have been having a line-out five metres out (from England's line). You can't say those things don't have an impact on the game, but I guess that's the vagaries of rugby.
"You rely on these things but in the end we'll just look at the opportunities we had and the mistakes we made. We didn't handle the second half as well as we would have liked. England squeezed us a bit at crucial moments and were able to manage the game."
The second call saw Clancy refer to the TMO for clarification on Dylan Hartley's potential block on Stephen Moore. The England hooker was cleared of sufficient obstruction to prevent his Wallaby counterpart tackling Owen Farrell on his way to scoring what proved to be the match-winning try.
McKenzie, though clearly frustrated, was more pensive on this second contentious decision.
"The second one [England try] had the benefit of the TMO looking at it without the pressure of the moment," he said.
"We can debate those things, it's like forward passes, there were a bunch of those too. We can debate those things until you are blue in the face. It's not going to change the outcome."
With the Wallabies leading 13-6 at the break, skipper Ben Mowen acknowledged his side had missed an opportunity to take a stranglehold on the game, as Quade Cooper failed from the tee.
"Just after half-time was a real opportunity for us to skip ahead and put pressure on England but we missed a few of those opportunities and they were extremely urgent, [they] beat us on a couple of retreats," said Mowen.
"When you have that urgency, married up with a few things going your way, they created that momentum and took those two tries, so you've got to give them that respect."