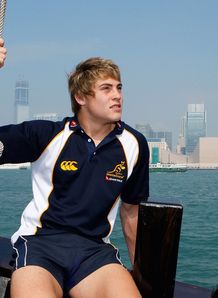 Related links
Teams
James O'Connor's release from his ARU contract is the latest twist in a career that has grown progressively sour. Perhaps a fresh start and new horizons are what he needs.
The irony of O'Connor losing the plot as his doppelgänger Justin Bieber goes through a similar breakdown is not lost, but rugby in Australia possesses few players with as much magic in their blood as the mercurial back.
O'Connor has already won an impressive 44 caps by the age of 23 and made over 60 appearances in Super Rugby. Yet he now finds himself without a contract and forced to swim on his own - forced to grow up possibly in an unfamiliar environment.
Thursday's statement from the Australian Rugby Union confirmed that O'Connor had been released from his contract for 2013 and that he would not be offered a new deal for 2014, leaving him with few options.
First though, he must get himself sorted out.
O'Connor is a once-in-a-lifetime talent - the youngest ever Super Rugby player at 17 and the Wallabies 'Rookie of the Year' in 2009.
Few, if any players in world rugby, can match the versatility that he offers having played across the back line from 10 to 15.
The reality though is that despite his ability to play a number of different positions, O'Connor's best form has been missing for some time.
His deployment in the fly-half jersey against the British and Irish Lions was a mistake. More recently he has seemingly lacked the pace and cutting edge to play out on the wing. The full-back slot is occupied by Israel Folau. As his performances have grown more mediocre, combined with the off-field baggage, O'Connor has felt more like a luxury than a key component of the Australian side.
Those off-field incidents have undermined his talent and position in a Wallaby squad where he should be the star, not the outcast.
The latest transgressionn- being too drunk to board a flight following Australia's uninspiring win over Argentina - finally tipped the scales for the ARU. To jettison one of your best talents is not a light-hearted decision, but they have been left with no other choice.
O'Connor therefore is the last of the 'Three Amigos' to start trekking on the road to redemption.
Quade Cooper's fiery relationship with the "toxic" Australia regime under Robbie Deans is in the past and the Reds number 10 has dealt with off-field issues for alleged burglaries and alcohol - in many ways putting his head down and battling back to being selected for the national side, even though he is yet to find his best form.
Kurtley Beale's indefinite suspension for alcohol has been and gone, the fly-half returning against the British and Irish Lions and now back where he started at the Waratahs following a successful rehab programme.
Now it is O'Connor's turn. Leaving Perth for the notorious crowd in Melbourne has been his undoing both on and off the pitch.
The Western Force, who gave O'Connor his debut, remain interested in bringing him back for the 2014 season, believing that they "can assist James to become the player he aspires to be and to develop himself as a person."
Perhaps the best way for the latter factor to happen though is for O'Connor to be thrown out of his comfort zone.
In Australia he will always be the centre of attention. But as part of a mammoth squad in the Top 14, at Toulon or Toulouse or Clermont or Montpellier, his path to the starting XV - let alone universal adulation - would be a battle.
O'Connor would earn an extravagant salary and develop his game, but have to overcome a language barrier and expand his horizons in order to succeed.
In many ways he has become too big for Australia, and too corrosive for the gold jersey.
For such an exceptional talent to be unwanted by his own country is alarming. Now, before the Rugby World Cup in 2015, O'Connor has two years to find some form, set himself straight, and win the ARU back onto his side.
By Ben Coles
@bencoles_