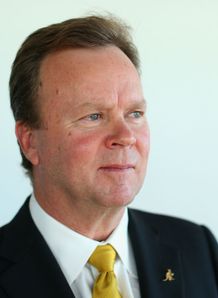 Related links
Teams
The Australian Rugby Union have moved to stamp out homophobia and discrimination in the sport by instituting an inclusion policy.
The policy is designed to create an environment in which everyone feels safe and welcome, regardless of their race, gender or sexuality, and will serve as an extension of the ARU's existing Member Protection Policy.
"Developing this Inclusion Policy is important as it demonstrates that Rugby is a game where you feel included and accepted, no matter who you are," said ARU CEO Bill Pulver.
"Australian Rugby is making progress to support social justice and diversity. We want to ensure everyone involved in the game is treated with respect and dignity.
"This is about reiterating the game's strong values and creating a diverse and inclusive Australian Rugby community," he added.
Wallaby flanker David Pocock, who has stated he will not formally marry his partner Emma until gay marriage is legalised in Australia, praised the ARU's decision.
"It is fantastic that the ARU is making this commitment to come up with a policy," he told Rugby Gold.
"The one thing we have learned over the past year or so is we can't wait for the Government to lead the way on tackling homophobia, so every person needs to do it in their family and their own workplace. For me, that's rugby and I am really excited to hopefully see the impact this makes on young boys and girls coming through, and hopefully having more awareness that rugby - and sport- is for everyone, and no-one should be discriminated against on the basis of sexuality."
The ARU's announcement comes as preparations are in full swing for the 2014 Bingham Cup, also known as the World Cup of gay rugby, and organisers of the tournament have called on other sporting bodies to follow the ARU's lead.
"All the major football codes and all sporting organisations in Australia have an opportunity to make a very meaningful change and create a sporting culture that is accepting and inclusive," commented 2014 Bingham Cup organising committee president Andrew Purchas.