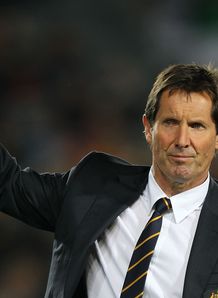 Related links
Teams
Hurricanes boss Mark Hammett is confident that disposed Australian coach Robbie Deans will bounce back from his sacking.
Deans was sent on his way by the Australian Rugby Union earlier in the week after a tenure filled with criticism. A series loss to the Lions proved the final straw.
However, despite his fall from grace Down Under, Hammett believes that Deans' quality will shine through.
"He's a good coach. I was lucky enough to play under him and coach under him for a long time," Hammett told the Dominion Post.
"He's very strong in the macro part of the game, and I learnt a heck of a lot from him."
Deans' next move is not clear, but Hammett is confident he'll have learned a lot from his time with the Wallabies.
"There's no doubt he's a very valuable man and a very good coach," he said.
"I haven't had a chat to him. I imagine he'll be like anyone; he'll sit back and reassess and be a hell of a lot better for the time he spent over there."