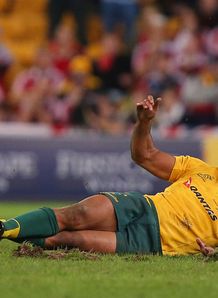 Related links
Teams
Kurtley Beale appears unable to stay away from controversy at present, but Ben Mowen is confident he'll answer his critics on the field.
The utility-back's decision not to wear long studs during Saturday's first Test against the Lions came under the spotlight when he slipped on the soft Brisbane turf while attempting a potentially match-winning penalty in the final minute of the game, and he once again hit the headlines when he was photographed at a fast food outlet in the early hours of Wednesday morning.
This comes after Beale recently returned to the fray after receiving treatment for alcohol-related problems, an act that Mowen believes has taken great courage.
"We're extremely proud of what Kurtley's done," said Mowen.
"He's had to make a lot of hard decisions over the last couple of months and own up to those decisions very publicly, which has probably been the biggest challenge.
"But the way he's come back from those situations has been amazing. He hadn't played a whole lot of rugby when he took to the field on Saturday.
"He'd done some preparation by himself and showed up in camp in top nick. You can't come on and perform in the way he did unless your mind is in the right place and your body is right.
"With only his second or third touch of the ball, he made a 40-metre break and made some key kicks."
Despite seeing the 24-year-old botch the crucial penalty, Mowen insists that his team-mates still have the utmost confidence in him.
"He was unlucky with the last kick, but if you're in the same situation again you'd definitely throw him the ball because he's a proven performer. We were only in that position to win because he had kicked one earlier," said the Brumbies skipper.
"After the game he was very disappointed, but he's a very strong bloke mentally and he doesn't get enough credit for that. We rallied around him quickly.
"He's a tough bloke and those are the guys you want to hand the ball to every time because more often than not they give you the result."