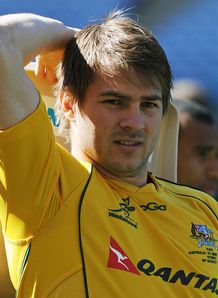 Related links
Teams
Three of Quade Cooper's team-mates have voiced their disapproval with his criticism of Australia's environment.
Prop Sekope Kepu and wing Drew Mitchell have urged Cooper and the Australian Rugby Union to settle their differences and wing Digby Ioane said he was surprised at Cooper's recent vent.
The injured Waratahs duo said that the headlines generated by Cooper were not good for the game.
Cooper slammed the Wallaby set-up, calling it a "toxic environment" and the tactics employed by current head coach Robbie Deans.
"I guess they're his problems and opinions, he's just voicing it himself, and if that was me I'd definitely deal with it in a different way," Kepu told the Sydney Morning Herald.
"Hopefully they come to an agreement or some resolution about what's actually happening."
When questioned if the Wallabies needed Cooper, Kepu, who is suffering from a grade-two medial ligament tear, said: "You've got a lot of depth and talent there in the 10 position," he explained.
"Kurtley's [Beale] come up and he had a good performance last week, bar the injuries [to the team] and what not.
"But that's a decision the ARU and [coach Robbie Deans] have got to make."
Mitchell, who is sidelined with an ankle injury, said there will be life after Cooper if he decided to quit the game.
''I don't think anyone's bigger than the game, so in that sense if someone feels they can say whatever they like and feels like they are needed then I don't think there's anyone in any team, anywhere in the world, that is needed that much,'' he said.
''That's not to say we couldn't do with [Cooper], but the game will go on and the Wallabies will go on if Quade decided to move on.''
Kepu believes the situation is not as bad as it looked or was made out to be.
"At the end of the day, as an individual I've got to pull my weight and do the best that I can to fit the environment," he said.
"It's representing your country, there's no greater honour than that and not being [with them] it's just like something is missing, and it just makes you more determined and hungry to want to get back in there because it's opportunities that you're missing - It's obviously put a bit of heat on the sport but we'll pull through it, definitely."
Mitchell said the spat between Cooper and the ARU could damage the sport's reputation in Australia.
"We're in a competitive environment, you just have to look at the publicity the A-League are getting at the moment, rugby league and AFL had their biggest weekends of the year and unfortunately the press about our game hasn't been particularly as positive as it could have been," he added.
"The results are things that the players themselves and the coaching staff can try to rectify as much as they can - I think mounting external pressure and distraction at unnecessary times, we could probably do without that."
Meanwhile, Ioane - who is preparing with the Wallabies for Saturday's Test against Argentina in Rosario - disagreed with his close friend Cooper's views about the team environment and stressed that the team was a tight-knit group.
"I was surprised I guess but that's Quade and his situation," Ioane told AAP.
"It's a bit crazy but that's his business. I've got nothing to say about him.
"It's a really good spirit ... everyone has been tight and everyone is enjoying everyone's company but we just have to deliver on game day."