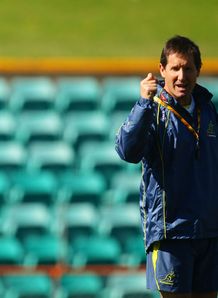 Related links
Teams
The Wallabies and All Blacks visit Pretoria and Johannesburg in a fortnight of rugby that could make or break a few careers.
Planet Rugby's Ross Hastie returned to the Highveld - where the stench of Wallaby denial hangs thick in the air - to give you a view from the inside.
Day 3 - Quade Cooper: The Kevin Pietersen of rugby
You would have been forgiven for expecting the Quade Cooper saga to start fading away after his bosses at the Reds told him to shut his trap and Robbie Deans gave the press corps in South Africa the old diplomatic 'there's no problem, but I don't want to talk about it' line.
But just hours before Australia's head coach was set to face the cameras in Pretoria, Mr Cooper spouted forth yet more vitriol about how the Wallaby environment was detrimental to his supposed creative genius.
"I feel that that environment is destroying me as a person and as a player," Cooper told The Rugby Club TV show on Thursday, adding that he would have turned down a call to play for his national side this week.
So, once the Wallaby press conference at the swanky Sheraton hotel kicked off, it didn't take long for Deans to be asked (again) if the soundbites from across the Indian Ocean were affecting their preparations.
No prizes for guessing the answer. No one really expected Deans to do a PDV and take the bait. But when Deano added "I haven't heard the latest quotes so I can't comment," the general, unspoken reaction was "yeah, right."
Of course Deans was never going to admit that there is a problem within the camp, but the cynics will always note that where there's smoke, there's often fire. Lest we forget that some of Quade's best mates are still in this team so it would seem strange if he was the only unhappy player.
However, the word from inside the camp (strictly off the record, naturally) is that this is all a power-play aimed not only at Cooper's contract negotiations but the Wallaby top job (no need to remind you that the most likely candidate to take over if Deans is axed just happens to be Cooper's Super Rugby coach). We already know the Reds fly-half does not have the strongest character and he is clearly surrounded by some pretty ordinary people when it comes to the 'business' side of his career.
The timing of his comments could not have been worse and the growing irritation amongst his (former?) Wallaby team-mates is palpable. Drew Mitchell tweeted: "Finding it increasingly difficult to bite my tongue..." while a member of Saturday's starting XV rolled his eyes and mouthed "I'm so tired of this s**t" when the issue was brought up in a casual chat after the presser.
Even if QC does decide he wants to wear a yellow jersey in the future, he might not find many friends left within the team.
But if you thought the pain of being betrayed by a team-mate was bad, wait until you have to pay R35 for a 275ml fruit juice in a hotel lobby. Next time I see the Wallaby logistics manager, I'm going to suggest they chop a few stars off their choice of hotels in future...
Day 2 - Reconciliation at the Casino?