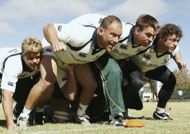 Related links
Teams
Michael Foley, Wallaby forwards coach, has insisted that Springbok tighthead BJ Botha uses illegal methods at the scrum to gain advantage for his side.
Foley, who was himself a Wallaby hooker during their 1999 World Cup triumph, said on Thursday at the Australian team announcement that Botha, "for quite some time", has been operating in contravention of the laws that govern the scrum.
"The laws read that you have to pack square, and then you have to scrum square," said Foley.
"And it was obvious in the Springboks' match against Samoa that BJ Botha makes the hit and then angles in, both on his own ball and that of the opposition.
"He is a very good prop, and the fact that he is a particularly short prop means that his angling in gives his side a distinct advantage."
Coach John Connolly confirmed that it was one of a number of things that he would discuss with referee Wayne Barnes ahead of the game.
"We will chat to the ref about a number of issues. Whether that makes a difference is another story.
"I know Jake would be doing the same."
Foley has earlier stated that the Wallabies realise that the Springboks don't respect their pack, as they do the New Zealanders.
The front row is one of the key areas that the Springboks will be targeting for dominance on Saturday, but the referee, as well as a monumental effort by the Wallaby front row of Matt Dunning, Stephen Moore and Guy Shepherdson, could negate that.
By Chris Waldburger