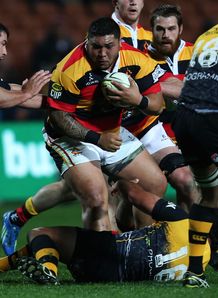 Waikato tighthead Ben Tameifuna has been given a five-week suspension following his shove on referee Glen Jackson in a recent ITM Cup fixture.
The incident, which took place in the Mooloos 22-16 win over North Harbour, saw the 23-year-old push the former fly-half to the floor on the try-line
Tameifuna was handed his punishment after a three-hour hearing that found he'd immediately apologised to Jackson after the fixture and he also "accepted his actions were inexcusable".
"Having taking into account the evidence, the player's post-match apology to the referee, his full acknowledgement that his actions were inappropriate, I have endeavoured to impose a proportionate sanction taking into account other similar situations from overseas decisions," said Judicial Officer Chris Morris.
"However it is imperative that players instinctively know that it is never, under any circumstances, appropriate for a player to abuse, verbally or physically, a match official.
"Taking all those factors into account, I find that a suspension of five weeks is appropriate and proportionate to the offending. Ben Tameifuna is banned immediately from all rugby up to and including 5 October."