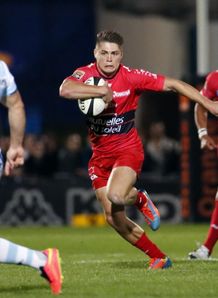 Related links
Teams
Also see
James O'Connor is in the middle of a tug of war with Toulon and the Reds both claiming he will play for them after the World Cup.
The Australian international announced last week that he would be joining up with the Reds for the 2015 Super Rugby season, with a view to cracking the Australian squad for the 2015 World Cup.
He is due to join the Reds at the end of the calendar year after half a season with Toulon, who he joined over the off-season.
And on announcing his arrival, the Reds claimed to have agreed a two-year deal with the 24-year-old, which would keep him in Australia until the end of the 2016 season.
However Toulon insist that O'Connor had already signed a three-year contract with them, with a clause allowing him to return to Australia for six months only to try to earn a World Cup spot.
President Mourad Boudjellal is confident he will get the Australian back in the south of France straight after the World Cup.
"We always said that James signed a three-year deal with a possible six month absence to be able to play in the World Cup, so we respect what was signed," Boudjellal told RMC Radio.
"He's signed on for two years after the World Cup."
Queensland chief executive Jim Carmichael has other ideas and expects O'Connor to remain with the franchise after the showpiece event in England next year.
"In the interest of all parties, I'm not going to discuss the detail of any players' contract.
"However, I'm completely satisfied that the agreement we have set is in the best interests of the QRU, the Reds, Australian Rugby and James O'Connor," Carmichael said.
"My priority now is to give James the best opportunity to achieve our agreed objectives when he joins the Reds, so I hope that this is the last time I will need to clarify our position."