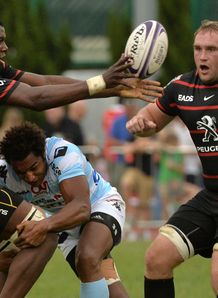 Toulouse and Racing Métro will be returning to Hong Kong this November for a friendly to win the Natixis Cup.
Guy Novès confirmed the fixture would be taking place for a second consecutive year on Monday.
The two sides both met a friendly match in the lucrative venue in 2013, with Toulouse running out 19-12 winners.
"Today was also about spreading the brand of both our clubs. It was a no-holds-barred game and both teams didn't take penalties as the idea was to play as expansive a game as possible," then-Toulouse wing Hosea Gear told AFP after last year's victory.
Given the timing of the fixture on November 15, leading internationals for both teams will be unavailable due to the Test matches taking place that month.
There are no Top 14 fixtures scheduled for that that weekend.
Toulouse also welcomed back three major stars to training on Monday, with Thierry Dusautoir, Yoann Maestri and Luke McAlister all healthy ahead of this weekend's match with La Rochelle.