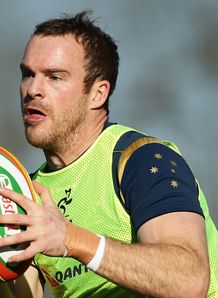 Related links
Teams
Wallabies utility back Pat McCabe is relishing the prospect of making his first start at Test level in nearly two years.
McCabe, who has played mostly at inside centre for the Brumbies in Super Rugby this year, will start on the right wing for Australia in their Rugby Championship opener against New Zealand in Sydney on Saturday.
The 26-year-old last started for the Wallabies against France France in November 2012 and has fought back after breaking his neck twice in 14 months.
He admits that he thought his career was over when he hurt his neck again while playing for the Brumbies against the Western Force in March.
But that injury was not as bad as the previous two - He first broke his next while playing for Australia on their 2012 end of year tour to Europe and suffered the same fate again during the Wallabies' series against the British and Irish Lions last year.
He believes that knock against the Force earlier this year was a turning point as he went on to play for the Brumbies throughout their Super Rugby campaign and came on as a replacement for the Wallabies in two Tests against France in June.
"Getting through that big knock and realising that it was fine was a huge confidence booster," he told Rugby Heaven.
"The games following were probably some of my best for the year.
"Getting over that real testing moment and coming out fine ... it's a long way from my mind now. You play your 16 games of Super Rugby and it gets pretty well tested week in, week out.
"It's feeling good now and, touch wood, I won't have any worries."
McCabe admits, however, that there were times when he feared he would never play at the highest level again.
"There were a few times where I had scans where if the injury didn't heal as [doctors] needed it to, it would have been the end," he said.
"There were a few nervous moments amongst that, but each of the times after the healing period, it recovered well. From that you just have to trust the medical advice.
"They were confident that it had healed well enough to get back out there. Here I am."