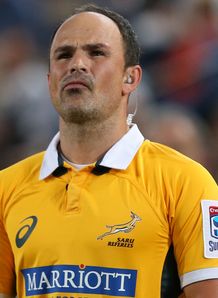 South Africa's Jaco Peyper will referee the Rugby Championship opener between the Wallabies and the All Blacks in Sydney.
There's plenty at stake in this encounter, which doubles as a Bledisloe Cup match, with New Zealand chasing their 18th consecutive Test win, which would set an outright world record.
And in Pretoria, Ireland's Johnny Lacey takes charge of clash between the Springboks and the Pumas. For Lacey this is a part of his upward journey in refereeing.
There is also this week the last two rounds of the Women's Rugby World Cup being played in Paris.
It is also the second round of the Currie Cup, and the opening rounds of the ITM Cup and the Top 14 competitions.
Rugby Championship
Australia vs New Zealand at ANZ Stadium, Sydney
Referee: Jaco Peyper (South Africa)
Assistant referees: Romain Poite (France), Stuart Berry (South Africa)
Television match official: Shaun Veldsman (South Africa)
Assessor: Clayton Thomas
South Africa vs Argentina at Loftus Versfeld, Pretoria
Referee: John Lacey (Ireland)
Assistant referees: Steve Walsh (Australia), Marius Mitrea (Italy)
Television match official: Simon McDowell (Ireland)
Assessor: Andrew Cole
Women's World Cup
South Africa vs Samoa at Marcoussis
Referee: Alhambra Nievas (Spain)
Assistant referees: Clare Daniels (England) Alexandra Pratt (Scotland)
Spain vs Kazakhstan at Marcoussis
Referee: Sherry Trumbull (Canada)
Assistant referees: Marlize Jordaan (South Africa), Marie Lematte (France)
Australia vs USA at Marcoussis
Referee: Jesse Beard (New Zealand)
Assistant referees: Marlize Jordaan South Africa), Maria Beatrice Benvenuti (Italy)
New Zealand vs Wales at Stade Bouin
Referee: Claire Hodnett (England)
Assistant referees: Leah Berard (USA), Sara Cox (England)
Ireland vs England at Stade Bouin
Referee: Amy Perrett (Australia)
Assistant referees: Nicky Inwood (New Zealand), Alexandria Pratt (Scotland)
France vs Canada at Stade Bouin
Referee: Helen O'Reilly (Ireland)
Assistant referees: Nicky Inwood (New Zealand), Clare Daniels (England)
Top 14
Bayonne vs Toulon
Referee: Jérôme Garcès
Montpellier vs Racing Metro
Referee: Salem Attalah
Toulouse vs Oyonnax
Referee: Maxime Chalon
Clermont vs Grenoble
Referee: Cyril Lafon
UBB vs Lyon
Referee: Pascal Gaüzère
Brive vs La Rochelle
Referee: Christophe Berdos
Castres vs Stade Français
Referee: Alexandre Ruiz
ITM Cup
Taranakivs Counties-Manukau at Yarrow Stadium, New Plymouth
Referee: Nick Briant
Southland vs Bay of Plenty at Rugby Park, Invercargill
Referee: Brendon Pickerill
Otago vs North Harbour at Forsyth Barr Stadium, Dunedin
Referee: Kane McBride
Canterbury vs Auckland at AMI Stadium, Christchurch
Referee: Garratt Williamson
Wellington vs Waikato at Westpac Stadium, Wellington
Referee: Shane McDermott
Tasman vs Hawkes Bay at Lansdowne Park, Blenheim
Referee: Glen Jackson
Northland vs Manawatu at Toll Stadium, Whangarei
Referee: Ben O'Keeff
Currie Cup, Premier Division
Sharks vs Pumas at Kings Park
Referee: Christie du Preez
Assistant referees: Lesego Legoete, Cwengile Jadezweni
Television match official: Willie Vos
Assessor: Dennis Immelman
Western Province vs Blue Bulls at Newlands
Referee: Rasta Rasivhenge
Assistant referees: Marius van der Westhuizen, Quinton Immelman
Television match official: Jason Jaftha
Assessor: Keith Hendricks
Golden Lions vs EP Kings at Ellis Park
Referee: Craig Joubert
Assistant referees: Francois Pretorius, Sieg van Staden
Television match official: Willie Vos
Assessor: Dennis Immelman
Free State vs Griquas at Free State Stadium
Referee: Marius Jonker
Assistant referees: Lesego Legoete, Francois de Bruin

Television match official: JJ Wagner
Assessor: Banks Yantolo