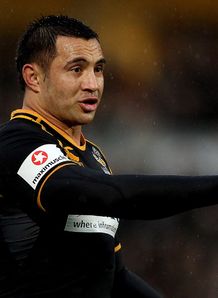 Wellington suffered a major blow over the weekend after fly-half Riki Flutey suffered a serious hamstring injury.
The Lions, who have lost pivot Lima Sopoaga to Southland, will now be without the Highlander's replacement as the 34-year-old was hospitalised.
"Apparently there are three attachments from the hamstring to the bone and he's torn all three," Lions head coach Chris Boyd told stuff.co.nz.
"He went to return a kick and ran into two or three players. They were rag-dolling him backwards a bit and he ended up turning his back on them a little and he basically ended up doing the splits. His torso got folded and his nose ended up on the ground between his legs and that was it."