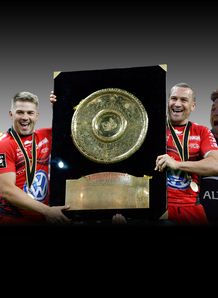 Related links
Also see
With the new French domestic season kicking off on Friday, we take a look at the prospects of each of the 14 clubs competing for the Bouclier de Brennus.
Toulon
Toulon has historically been one of the big guns of French rugby, but the turn of the century saw a downturn in fortunes and they were relegated for financial reasons in 2000. Their first promotion back to the top flight ended in disaster, but since then Mourad Boudjellal has arrived with his comic book riches and an unprecedented collection of stars, and they finally got their hands back on the Bouclier de Brennus after 22 long years in Paris in May. That followed on from back-to-back Heineken Cups for the side led by the now-retired Jonny Wilkinson.
Track record: Toulon have won the Bouclier de Brennus on four occasions, and have been a rising force over the last few years. In 2012 they reached the final only to lose to reigning champions Toulouse, and the following year they were stunned by underdogs Castres. They got their revenge this year though with a hard-fought win in a repeat of that final.
Captain: While Matt Giteau and Frédéric Michalak will be charged with replacing Wilkinson at fly-half, it is former All Black tighthead Carl Hayman who has to step up as Toulon skipper. Known more for his deeds than his words, Hayman took a while to find his best form at Toulon, but was a key part of their dominant pack of forwards last season. And he won't be short of leaders alongside him in a star-studded team.
Coach: For a while it seemed as though Bernard Laporte might be off at the end of last season, with Argentina rumoured to be interested in his services. In the end the former France coach will continue, and you can be sure he will be as vociferous as ever in his criticism of referees, the FFR, disloyal players and anyone else who crosses him. His record speaks for itself though.
Last year's performance: Champions
This year's prospects: Wilkinson may be gone, but Leigh Halfpenny, Mamuka Gorgodze, James O'Connor and Guilhem Guirado should soften the blow somewhat. After what they have achieved over the last two seasons, it's hard to see past Toulon to defend their title. The only worry is that some of the older legs in the pack might start to show their age this season.
---
Castres
The epitome of the small French town from the South West which lives and breathes rugby, Castres have been something of an anomaly in recent years where clubs from the larger cities have dominated the league. Backed by the family of late pharmaceutical giant and local businessman Pierre Fabre, they have won the Brennus on four occasions, and have been in the top flight for nearly a century.
Track record: The exception that proves the rule, Castres have remained competitive in recent seasons despite a budget significantly inferior to their main Top 14 rivals. They stunned everyone in 2013 by knocking off Heineken Cup finalists Clermont and Toulon in successive weeks to win the Brennus, and were almost as impressive last season in reaching the final again, ending Clermont's 77-match unbeaten home record in the process.
Captain: Rémi Talès has had an unlikely path to the top, having spent most of his career in the second flight with Mont-de-Marsan and La Rochelle before joining Castres in 2011 at the age of 27. He has since established himself as first-choice fly-half and scored two vital drop goals to help Castres to the Top 14 title in 2013. He was also called up to the French squad by Philippe Saint-André and looks to be in pole position to start for France in November.
Coach: Replacing the two Laurents (Labit and Travers) who were off to Racing, was quite a challenge last season, but general manager Matthias Rolland, in his first season since retirement, and coaches David Darricarrère and Serge Milhas, did a fantastic job.
Last year's performance: Runners-up
This year's prospects: Castres seem to relish being the underdogs and defy expectations every season. Keeping hold of Rory Kockott was huge for them, while Sitiveni Sivivatu could prove an inspired signing if he can rediscover his early-season form from last year. It remains to be seen whether the losses of Brice Dulin and Antonie Claassen will prove decisive but expect Castres to be in and around the top six.
---
Montpellier
The contender with the shortest history, Montpellier only came into existence in 1986 as a merger of two other clubs in the city. Now the premier sports club in arguably France's most sporting city, Montpellier benefit from the support of backer Mohed Altrad, who has been at the head of the club since 2011, and after whom the stadium will be named from this season.
Track record: Unsurprisingly given their brief history, Montpellier are still chasing their first Top 14 title, having come close four years ago when they surprised everyone to reach the final, only to fall to Toulouse. They've become a more consistent force in recent years though, and earned a semi-final spot by right last season, before falling to play-off nemesis Castres after extra-time in a game they will feel they should have won.
Captain: Fulgence Ouedraogo has been at the club since the age of 17, and leads by example when fit. Unfortunately for the French international, that has not always been the case in the last couple of seasons. When he's not available, fly-half François Trinh-Duc has stepped up, and looks more and more comfortable in a leader's role.
Coach: The former France scrum-half and Stade Français coach Fabien Galthié is tipped by many to be Philippe Saint-André's successor, and it's easy to see why with Montpellier's dynamic style. Very animated and occasionally over-excitable on the sidelines, Galthié has an astute rugby brain, along with a pair of very competent coaches in Stéphane Glas and Mario Ledesma.
Last year's performance: Semi-finalists (Lost to Castres)
This year's prospects: Some of the big money signings made last season didn't really pay off, with Sitaleki Timani and Jim Hamilton struggling in particular. This year the recruitment has been a little less eye-catching, although Ben Mowen will be a very different successor to Mamuka Gorgodze in the back row. Expect Rene Ranger to make more of an impact in his second year, while Montpellier look a good bet to be Toulon's closest challengers provided Trinh-Duc stays fit.
---
Racing-Métro
The first-ever winners of the Bouclier de Brennus, Racing have experienced the highs and lows of French rugby more than most. In their famous light blue and white hoops, they spent long periods out of the top flight, before bursting into the limelight in the late 80s and early 90s thanks to emblematic players such as Jean-Baptiste Lafond and Franck Mesnel. After another lean patch, the investment of Jacky Lorenzetti has allowed them to contend for titles once more, with Jonny Sexton and Jamie Roberts among the big names brought in over the last few seasons.
Track record: Racing have been a consistent presence in the play-offs since their return to the top flight in 2009, and despite a slow start to last season, eventually reached the semi-finals by winning away at Toulouse in their knockout clash. They eventually went down to Toulon in an attritional last four game, paying the price for conceding an opportunistic early Matt Giteau try, but showed signs they are finding their feet.Captain: The man with the most stunning hair in French rugby, Dimitri Szarzewski certainly doesn't fit the mould of the grizzled front rower, and doesn't play like one either. While he can sometimes struggle on the international stage, Szarzewski has established himself as one of the best hookers in the Top 14, and appears to have matured in recent seasons. Currently sidelined with an Achilles problem, he signed a new contract at the club over the off-season.
Coach: Arriving from a small town like Castres, in the big city that is Paris, was always going to take some adjustment for Laurent Travers and Laurent Labit (or 'les deux Lolos' as they are known in France). Their style is not the easiest on the eye, and only Biarritz and Bayonne scored fewer tries last season, but in the second half of the season, Racing were as good as anyone in the league.
Last year's performance: Semi-finalists (Lost to Toulon)
This year's prospects: After some blockbuster signings in recent seasons, this year was a little more sedate for Racing, but Brice Dulin, Antonie Claassen and Luke Charteris are all established Top 14 players who should be able to find their feet quickly. Continuity in the coaching staff will help, and this squad should be right in contention come the play-offs, but they do seem to be lacking a little X-factor.
---
Clermont Auvergne
The bridesmaids of French rugby, Clermont had to wait until their tenth final to finally get their hands on the Bouclier de Brennus, but they are best known for their inability to perform on the big stage. Backed by tyre giant Michelin, they have one of the most passionate sets of supporters, and went more than four years without a home defeat until Castres beat them in the Top 14 play-offs last May.
Track record: One of the most consistent contenders over the last decade in France, Clermont had reached at least the semi-finals every year since 2006 until last season's play-off loss to Castres. They finally won the Top 14 title in 2010 in their fourth straight final, but have not made it back to the big game in the four seasons since.
Captain: Aurélien Rougerie stepped down as captain of the club this season, before an ugly incident where he and teammates Benjamin Kayser and Julien Pierre were attacked with machetes during pre-season. Replacing him will be French international number eight Damien Chouly. The former Perpignan back row has established himself since arriving at the Stade Marcel Michelin two years ago and is a logical choice to replace the emblematic Rougerie.
Coach: The off-season saw a lot of change at Clermont, most notably the departure of Vern Cotter after eight years in charge. His assistant Franck Azéma, who had previously helped Perpignan to the Top 14 title, will move up to the top job, ably assisted by former Leinster forwards coach and All Black Jono Gibbes. Azéma is a quiet individual but very highly-regarded in French coaching circles. This will be his first head coaching gig, however.
Last year's performance: Play-offs (Lost to Castres)
This year's prospects: Last season looked very much like the end of a cycle for Clermont, with a number of players appearing to be on the decline. In the front five Sébastien Vahaamahina will offer some new blood, while Jonathan Davies will form an exciting centre partnership with Wesley Fofana. Camille Lopez could prove the best signing of the lot though, if he can oust Brock James from the side. Clermont should still make the play-offs, but they might be a couple of years from really challenging for the title again.
---
Toulouse
Where do you start with Toulouse? They are the most successful club in the history of both French and European rugby. They won their first Bouclier de Brennus in 1912, and now have a record 19 titles, including four straight in the 1990s, an unprecedented feat in the post-war era. Best-known for their flamboyant running rugby, Toulouse's philosophy comes from the coaching of Pierre Villepreux, the man behind their renaissance in the 1980s.
Track record: Two lean trophy-less years have got fans worried about whether Toulouse are on the decline, so it's easy to forget that prior to that les Rouge et Noir had won consecutive Top 14 titles, and a fourth Heineken Cup in 2010. They have however been less impressive in the last two seasons, missing out on the Top 14 semi-finals for the first time in 20 years last season, while also struggling in the Heineken Cup.
Captain: One of the great back rows of the professional era, Toulouse skipper Thierry Dusautoir is the ultimate leader by example, putting his body on the line time after time for his side. Unfortunately the French skipper has paid the price in recent seasons with niggling injuries restricting the number of games he has been able to play for Toulouse, and he has already been ruled out of the start of this season. In his absence Yannick Nyanga, Patricio Albacete and Florian Fritz have all filled in, each offering slightly differing qualities.
Coach: Arguably the most successful club coach of all time, Guy Novès is a legend in Toulouse, having taken charge two decades ago. In that time, Toulouse have won nine national titles, to go with four Heineken Cups. Having turned down the French national job on a number of occasions, most recently in 2011, the pressure is starting to mount on the former winger to show he hasn't lost his touch. His assistants William Servat and Jean-Baptiste Elissalde, two standouts in their playing days, have also come under fire after a rocky transition into coaching.
Last year's performance: Play-offs (Lost to Racing-Métro)
This year's prospects: A look at the squad would lead you to make them contenders with Toulon to win it all, but inconsistency means that making the top six is far from guaranteed. The front five was an issue last season, with a glaring lack of depth at tighthead, where Census Johnston looks jaded. Toby Flood could prove a great signing, but the key will be rediscovering some cohesion. The loss of seven or eight internationals on a regular basis won't help on that front but the pressure is on to make a quick start, and improve the away form.
---
Stade Français
In terms of number of titles, Stade Français are the second most successful team in French history, although they had to wait 90 years to win the ninth of their 13 titles in 1998. Max Guazzini was the man behind their return to the big time in the late 90s, and he was also responsible for the ever more eccentric shirt designs, and the famous Dieux du Stade calendar. He has since yielded control to Thomas Savare, a businessman who has big ambitions for the club in their recently refurbished Jean Bouin stadium.
Track record: After dominating the early and mid 2000s, Stade began a slide down the table, and have now failed to reach the play-offs for five years. They appear to be on the up again though, spending much of last season in the top two before fading down the stretch and eventually missing out on the top six by a single point.
Captain: Sergio Parisse is set to continue as club captain, although international absences and injuries have seen Pascal Papé, Pierre Rabadan and Jérôme Fillol all step up in his place. The Italian has struggled with a back problem over the last couple of seasons, but after a full off-season he is optimistic of playing a larger role this campaign.
Coach: Gonzalo Quesada came to many people's attention during the 1999 World Cup when he kicked everything in sight for Argentina, and it was as a kicking coach that he started his post-playing career, with the French national team. In 2011 he joined Racing-Métro midway through the season before switching Parisian sides at the start of last season. A great man-manager, Quesada allowed his players a greater freedom to express themselves and turned Stade into one of the more dynamic sides in the Top 14.
Last year's performance: Seventh
This year's prospects: As it has been for the last five years, the one and only aim for Stade is to finish in the top six and get back into the play-offs. Given the competition, that won't be easy, but there is a group of youngsters coming through who are looking more and more comfortable. Hugo Bonneval's cruciate injury was a big blow but Jules Plisson will have benefited from a long off-season after an even longer campaign. Big money flops Digby Ioane and especially Morné Steyn will need to perform better to justify their salaries.
---
Bordeaux-Bègles
One of the feel-good stories of last season, Bordeaux-Bègles have bounced back from some lean years to re-establish themselves in the Top 14. The amalgamation of two clubs in the Bordeaux area, Bègles won two French titles, including the Bouclier de Brennus in 1991 behind arguably the most fearsome front row in the history of French rugby marshalled by a tyrannical scrum-half, a certain Bernard Laporte. Since the fusion, UBB have slowly worked their way back to the big time and look well-set to remain in the Top 14 for a good time yet.
Track record: Since gaining promotion to the Top 14 three years ago, Bordeaux have steadily improved, and finished eighth last season thanks to a style of play that made them a delight to watch. Only Montpellier and Clermont scored more tries and had it not been for a narrow home defeat to Toulon three games from the end of the season, they would have made the play-offs for the first time since their return to the top flight.
Captain: Bordeaux have a very cosmopolitan squad, with Kiwi number eight Matthew Clarkin leading by example. A powerful figure, Clarkin never stops carrying the ball, making tackles and being a nuisance at the breakdown, while showing the handling skills required for Bordeaux's dynamic game plan.
Coach: Former France captain Raphael Ibañez heads up the coaching set-up in Bordeaux, and despite his lack of experience, he seems to have done a great job since taking over two seasons ago. Vincent Etcheto takes a lot of credit for that, the backs coach seems to be the real leader behind Bordeaux's attacking philosophy.
Last year's performance: Eighth
This year's prospects: It hasn't been easy-going all the time, but Bordeaux have constantly improved since gaining promotion, and they look to have strengthened again this season with the arrivals of Yann Lesgourgues and Sofiane Guitoune. The most important off-season business was keeping hold of Metuisela Talebula, last season's top try-scorer and arguably the most elusive runner in Europe. The aim for this season will be to contend for the top six and with a good start to the season that looks a possibility.
---
Brive
As of May (when Northampton won the Premiership) Brive hold a unique place in European rugby as the only winners of the Heineken Cup never to have won their domestic championship. Les Coujous have come close, four times reaching the final, the last of which came in 1996, at the start of Brive's golden era. The following season they hammered Leicester to win the Heineken Cup for the first time, with Christophe Lamaison pulling the strings at outside centre.
Track record: It's been harder going for Brive in recent seasons, having been relegated twice since the turn of the century. But after gaining promotion a year ago, they enjoyed a successful return to the top flight last time out. They lost just once on home soil, beating the likes of Toulon and Clermont, and hammering Castres 34-0 in the performance of the season. That was built on an uncompromising pack and unrivalled intensity.
Captain: Arnaud Méla is the personification of Brive's no-nonsense abrasive style, and has enjoyed a return to his best form in the last couple of seasons. One of the hard men of French rugby, the Brive pack is built in his image, refusing to take a step back and never being beaten up front.
Coach: When Brive were relegated two years ago young defence coach Nicolas Godignon was charged with leading them back to the top flight, something they did at the first time of asking. His first season in charge in the Top 14 was even more successful as Brive comfortably beat the drop. Given his background it's little surprise the team is defensively strong, and hugely powerful up front.
Last year's performance: Ninth
This year's prospects: After exceeding expectations last season, more of the same would constitute a successful campaign for Brive. They will be as tough to beat as ever on home soil, while number eight Sisa Koyamaibole is a wrecking ball the equal to any in the league. There hasn't been a great deal of change in the squad, but new winger Benito Masilevu has already been turning heads in pre-season.
---
Bayonne
Now the only Basque team in the Top 14, Bayonne are known for being one of the best-supported teams in France. They have won the Bouclier de Brennus on three occasions, but not since 1943, and have never made the play-offs since the top flight was reduced to 14 teams. They have endured a tumultuous few years off the pitch with glasses magnate Alain Afflelou leaving and then returning on numerous occasions - he's stepped away for now - and big money recruitment has seen little return.
Track record: Despite spending considerable amounts of money on a host of big names, Bayonne have struggled to come close to their heady ambitions in recent seasons. Last season was a case in point, as they scrapped their way to tenth after battling relegation for much of the year, although it was more comfortable than the 2009/10 season when they beat the drop only by virtue of Montauban's financial difficulties.
Captain: David Roumieu is an interesting choice as captain, although a serious knee injury at the end of last season means he won't have a chance to lead the side until at least after Christmas. The hooker is a fan favourite largely due to his hugely confrontational style, which will take some replacing while he's on the sidelines. His likely back-up will be prop Aretz Iguiniz, who led the club last season.
Coach: A new coach at Bayonne is almost an annual affair these days with Patricio Noriega becoming the sixth boss since 2010. The former Argentina and Australia prop had been the forwards coach at Racing and Stade with Gonzalo Quesada, before being offered a position in Bayonne. He will be joined by Nicolas Morlaes, who will take charge of the backs having previously looked after the youth set-up.
Last year's performance: Tenth
This year's prospects: Unlike in previous seasons, Bayonne have not splashed out on too many big names, with Georgi Jgenti and Blair Stewart the highest-profile signings. Whether that means a change of fortunes is tough to tell but it should see a number of promising youngsters play a larger role. Having said that, the squad looks a little short on real class, and another relegation battle seems likely.
---
Grenoble
Sitting in the Alps, Grenoble are somewhat of an outlier in the Top 14, despite a long history that dates back to the end of the 19th century. They won their only Bouclier de Brennus in 1954, before enjoying a return to the limelight in the early 1990s under the leadership of legendary France coach Jacques Fouroux. However the start of the millennium proved costly for the club, initially relegated into ProD2, before dropping further because of financial difficulties in 2005. Those problems slowed the club's development down a little, but they have long been known for a strong youth set-up, with Vincent Clerc probably the highest-profile product in recent seasons.
Track record: Since returning to the top flight, Grenoble have caused more than a few surprises. In each of their last two seasons they have made flying starts before fading down the stretch, but relegation has barely been a concern. They have also been one of the more impressive clubs away from home, including wins at Racing and Toulon last season, doing the double over the French champions in dramatic style at Mayol.
Captain: Taking over from the now retired Andrew Farley, is full-back Fabien Gengenbacher, who has been with the club since 2006. One of the great hopes of French rugby, Gengenbacher was an age group international and made his Heineken Cup debut having just turned 20 back in 2004.
Coach: Fabrice Landreau has worked wonders with Grenoble since arriving from Stade Français, and is now being talked up as one of the most promising coaches in French rugby. He's an emotional character, as was demonstrated when he burst into tears during the win at Toulon, and he's surrounded himself with some top quality assistants, including former Ireland hooker Bernard Jackman.
Last year's performance: Eleventh
This year's prospects: If their final pre-season fixture against Harlequins was anything to go by, Grenoble could surprise a few more people this season. They have made some intelligent signings, including former Springbok Gio Aplon and Racing fly-half Jonathan Wisniewski, who should be a more than capable replacement for the departing Blair Stewart. If they maintain their excellent home record and maintain their form at the end of the season, Grenoble should comfortably beat the drop and might even threaten a play-off spot again.
---
Oyonnax
The feel-good story of last season, Oyonnax enjoyed their first season in the top flight, surprising a number of teams along the way. Oyonnax is a small town near the Swiss border, comfortably the smallest in the Top 14, but they have built their success around a phenomenal home record, earning promotion to the top flight in 2013 as champions of ProD2.
Track record: Oyonnax arrived in the Top 14 having gone a season unbeaten on home soil, and it was their performances at home that helped them beat the drop. Toulon, Clermont and Racing were among the sides beaten at Charles-Mathon, but in the end it was a try from Jonathan Bousquet on the final day at Brive that saved Oyonnax, as they finished level on points with Perpignan, and stayed up because they had the better of the results between the two teams. Ironically Bousquet has since joined Perpignan, the team he sent down.
Captain: Full-back Florian Denos will officially take over as captain this year, having filled the job for much of last season in the absence of Joe El Abd. After an injury-riddled season, El Abd has called time on his career, but Denos has vast experience with more than a decade in the top flight.
Coach: Christophe Urios looks an uncompromising character on the sidelines and the former hooker is known for his straight-talking and the high expectations he places on his players. However it's impossible to argue with what he's achieved, and he will this season be joined by former skipper El Abd on the coaching staff.
Last year's performance: Twelfth
This year's prospects: Written off as relegation certainties last season, Oyonnax surprised everyone to stay up. They will again be expected to be fighting for survival, but some shrewd signings of veterans like Pedrie Wannenburg and Maurie Fa'asavalu could help them kick on. Their struggles in the second half of last season are a concern though, and they won't have the element of surprise this time around.
---
Lyon
One of the bigger clubs in France before the Second World War, Lyon experienced a serious decline until the start of the new millennium. They have since been improving steadily, and after a first failed attempt at establishing themselves in the Top 14, they have managed to return for a second season after claiming the ProD2 title last year.
Track record: When Lyon were promoted in 2011 they looked well-placed to for a long stay in the Top 14, only to go straight back down after finishing rock-bottom. What was expected to be an immediate return after some high-profile recruitment, that included French internationals Sébastien Chabal and Lionel Nallet, did not happen immediately. However last year Lyon were a cut above the rest in ProD2 and claimed the title with two games to spare.
Captain: Often overshadowed by the more high-profile Chabal, Lionel Nallet has been a calming influence at Lyon since arriving from Racing. The former France skipper will play his final season before hanging up his boots for a well-deserved retirement by which time he will be 39. With 74 caps and after winning three Six Nations titles, Nallet will lead by example.
Coach: Former Wallaby fly-half Tim Lane arrived at the start of last season and helped Lyon to the ProD2 title. Lane has considerable experience of French rugby, having already coached in Clermont, Brive and Toulon. He will be assisted by forwards coach Olivier Azam and former France defence coach Dave Ellis.
Last year's performance: Champions of ProD2
This year's prospects: There was a tendency to overrate Lyon three years ago on their first stint in the Top 14, but they should make a better fist of it this time around. George Smith is the highest-profile signing, but experienced Top 14 players like Fabrice Estebanez and Julien Puricelli should make a big impact as well. Avoiding the drop would be considered a successful season, and on the strength of the squad at least, it seems very possible.
---
La Rochelle
One of the yo-yo clubs of French rugby, La Rochelle are back in the top flight after three years spent in ProD2. In the last nine seasons they have either been in the Top 14 or the ProD2 play-offs in every year, but their last season in the top flight saw them finish 13 points from safety. The club is also known for being the home of the Elissalde family, with current Toulouse coach Jean-Baptiste having come through the youth system there.
Track record: Regulars at the top of ProD2, La Rochelle finished the regular season in third last year, level on points with second-placed Agen. In the play-offs they then beat Pau and Agen, producing a blistering first-half display in the final, to secure promotion back to the top flight.
Captain: La Rochelle skipper Uini Atonio is an interesting character, having arrived from New Zealand in 2011. The giant tighthead prop is only 24, but is a born leader and has incredible endurance despite weighing in at over 140kg. He was a transfer target for Toulouse this off-season, but decided to stick with La Rochelle. He has already expressed his desire to play for France and is apparently being closely monitored by Philippe Saint-André and co.
Coach: Patrice Collazo is a former French prop who was part of the Toulouse teams that won the Heineken Cup in 2003 and 2005. He went into coaching after retiring in 2009, and has been at La Rochelle since 2011. He looks after the club's forwards while Fabrice Ribeyrolles is backs coach, but the arrival of former French international Xavier Garbajosa could offer an interesting new approach for this campaign.
Last year's performance: Winners of ProD2 play-offs
This year's prospects: Brive and Bordeaux have shown in recent seasons that it's possible for the play-off winners to beat the drop, but it's rare. With the exception of Atonio and Jason Eaton, the pack looks like it will struggle, so it will be up to the backs to pick up the slack. Peter Grant is an interesting addition at fly-half, while Alofa Alofa will face a different challenge having just won the Super Rugby title with the Waratahs. Whatever happens, it will be great to see the ageless Sireli Bobo in the top flight again. Even at 38, he showed he still had some gas left in the tank last season.