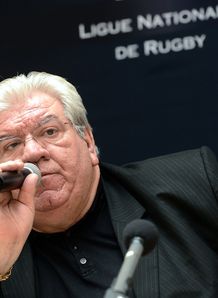 Coaches in the Top 14 might have to dig deep into their pockets after new disciplinary measures were announced.
The president of the Ligue Nationale de Rugby (LNR) Paul Goze revealed to the Midi Olympique that there will be stricter provisions in place to discourage critical comments in the media.
Last season Bernard Laporte received a 16-week ban for comments made about referee Laurent Cardona, who oversaw Grenoble's shock win at Toulon.
And the new measures will focus more on the financial penalty, with the sums involved eye-watering, even for the financial giants of the Top 14.
For incidents on match days, potential fines have gone up to between €3,000 and €50,000 but the bigger punishment comes for those judged to have damaged the integrity of the Top 14, with fines that range from €50,000 to €300,000.
"There is a new article [in the regulations], targeting statements that denigrate the Top 14 and rugby in general: the bracket for those fines is from €50,000 to €300,000. With sanctions like that, anyone caught once won't be reoffending."
That will not be the only change for next season, with a new disciplinary system being introduced with regards to yellow cards.
Players will now face a one-match ban if they accumulate three yellow cards, while contesting referee's decisions will lead to penalties and then yellow cards.
Goze has also indicated that this season's Top 14 semi-finals will likely take place in the South of France, after being held in Lille and Nantes over the last two years.