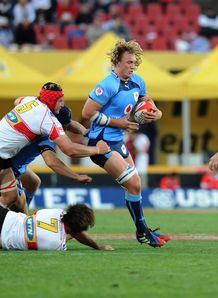 Blue Bulls loose forward Jacques du Plessis has recovered from a broken jaw and will be available for selection for the remainder of the Currie Cup.
Du Plessis trained on Monday while some players sat out with minor ailments.
Sampie Mastriet (hip contusion) and JJ Engelbrecht (rib contusion) will train on Tuesday, but prop Dean Greyling will have to pass a late fitness test on Thursday, if he is to play against Western Province on Saturday in Cape Town.
Greyling is suffering from a calf strain, team doctor Org Strauss said on Monday.
His regular back-up, Morne Mellett, will undergo a scan on his knee on Monday and will be out of action for at least four weeks.
Bjorn Basson (ankle) is also close to full fitness and should be ready to play within the next two weeks.
Tian Schoeman is recovering well from an ankle injury and could train next week.
Pierre Spies, Arno Botha, Frik Kirsten, Jaco Visagie and Flip van der Merwe remain on the long-term injury list.