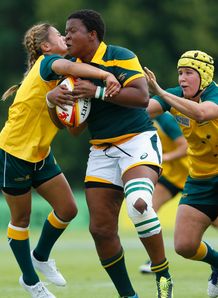 South African Women's captain Mandisa Williams has been banned for 16 weeks after being found guilty of eye gouging at the World Cup.
Number eight Williams will miss the rest of the World Cup after she was found to have made contact with an opponent's "eye(s) or eye area" and was also guilty of "striking a player with the fist or arm" during their 26-3 defeat to Australia in the opening round on Friday.
Having heard all the evidence, the Judicial Officer determined that in relation to the acts contrary to Law 10.4(m), the player's actions warranted a mid-range sanction, which has an entry point of 18 weeks. Having applied various aggravating and mitigating factors including the player's clean disciplinary record, the final sanction stands at 16 weeks.
In the context of the tournament, this means the player will miss the remaining four matches of the tournament and is suspended for a further seven weeks until the end of the South African Rugby season.
The remaining five weeks of the suspension are to be served at the start of next Rugby season in South Africa.
Meanwhile, Samoa's Soteria Pulumu will also miss the rest of the World Cup after she was issued a straight red card for a dangerous tip-tackle on England's Natasha Hunt
She copped a nine-week but it was reduced to five on account of the player's remorse and clean record.
Both players have the right to appeal.