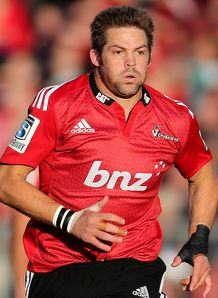 Related links
Teams
Crusaders flanker Richie McCaw is the man the Waratahs will be looking to "hurt" in Saturday's Super Rugby Final in Sydney.
That was the word from the Sydneysiders' coach Michael Cheika, who sang McCaw's praises but warned that keeping the All Blacks captain quiet would help the Waratahs win their first title.
"He's a really solid player, he never gives in, he's always there at the coalface of the battle, he's the type of player I like," Cheika told The Daily Telegraph.
"Tomorrow we're not going to like him obviously, we're going to try and go out there and hurt him.
"But I think he's a class player."
McCaw is hailed by some enthusiasts as the game's greatest ever flanker but there is also a perception that referees treat him more leniently at the breakdown, because of his aura as a player.
The referee for Saturday's final, South Africa's Craig Joubert, was criticised for the way he handled McCaw during the All Blacks' victory over France during the 2011 World Cup Final, but Waratahs captain Michael Hooper is not concerned about the referee.
"We haven't looked at that in too much depth," said Hooper.
"Each referee is different. Each referee has certain things that he can bring to the game and you have a little look at that.
"But it's all about adapting pretty well in the game."
Cheika believes Joubert deserves to referee the final.
"Let the guy ref and then live with whatever we can around decisions and work around it as best we can," he said.