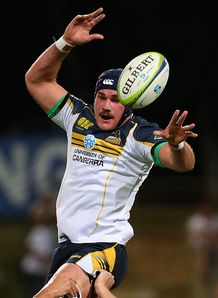 Related links
Teams
Brumbies number eight Ben Mowen believes his side deserve to win the Super Rugby title because of the work they have put in over recent seasons.
Mowen, who departs for Montpellier at the end of this term, takes on Michael Hooper's Waratahs this weekend in a massive semi-final showdown.
The Brumbies lost 39-8 in Sydney earlier in 2014 but with solid knockout experience gained last year, Mowen is confident his side can prevail.
"I honestly believe the group deserves a championship for the work that's been done," he said.
"Not only the last 12 months but over the last three and a bit years.
"But thinking you deserve one and actually getting one are two different things."
Mowen leaves for French club Montpellier ahead of 2014/15 and added: "For me personally, I'm very motivated to make sure that this group gets what they deserve."