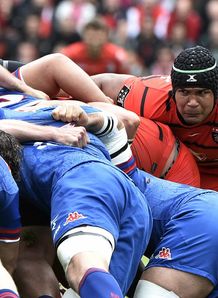 Related links
Also see
Toulouse captain Thierry Dusautoir admits that Top 14 and European champions Toulon have set the benchmark for success.
Last season was a dismal affair for Europe's most successful ever side, as they missed the playoffs in the Top 14 for the first time in 21 years.
That was coupled with a Heineken Cup quarter-final humbling against Munster at Thomond Park, with Toulouse well beaten 47-23.
Looking to move on the club have made good signings for the new season, with Toby Flood, Alexis Palisson, Neemia Tialata, Imanol Harinordoquy and Corey Flynn all joining the cause.
Despite last season's failures Dusautoir admits that Toulouse's ambitions remain the same as ever, although now with Toulon setting the pace.
"All seasons here are important. I don't know a single season where we weren't expected to compete at the highest level," Dusuatoir told Rugbyrama.
"The requirements are the same and always high. Last season was particularly disappointing but we are working in a very competitive championship to achieve our goals.
"Currently Toulon dominate the Top 14 and the European Cup and that's the example we should follow to also try and win something this year.
"Even if Toulon are favourites, that doesn't change anything for us. Our expectations are always high. Toulon have won the right to be named favourites after the past two seasons."
Dusautoir has had four weeks off following France's horrific tour of Australia, eager to put the lows behind him.
"I want to move on every time, even when a season is more successful than last season. What is past is past and you have to start on something new, even when you have just won a title," added Dusautoir.
"We must refocus on new goals. It's true that last season was not satisfactory in several areas and that will make it more interesting."
Discussing the new recruits, Dusautoir appeared to be happy with the quality coming into the club.
"It's a little early because I've only been back with them for two days! But it's going well," stated Dusautoir.
"Imanol Harinordoquy is someone I've know since I was 20. We played in teams of France and at Biarritz together.
"I played against Toby Flood and Neemia Tialata and played several matches with Alexis Palisson for les Bleus. We have to allow more time to obtain more knowledge about each other, but that will be simple."