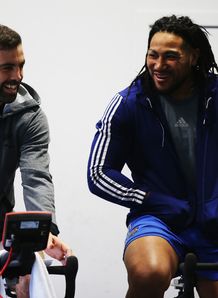 Related links
Teams
Hurricanes captain Conrad Smith wants All Blacks team-mate Ma'a Nonu back at the franchise but feels his return must be managed right.
Nonu, and former Hurricanes skipper Andrew Hore, were axed by coach Mark Hammett following a turbulent 2011 season.
That was Hammett's first year in charge following his move from the Crusaders. It was the start of sweeping cultural change the former All Blacks hooker began implementing after revealing the franchise had been in a "real mess" when he arrived.
Hammett has left the Hurricanes after a four-year stint and his move to the Cardiff Blues means Nonu is now able to return to his home franchise after recent stints with the Blues and Highlanders.
But Smith feels that should be handled right as the team has made great strides in improving their culture since Nonu's departure.
"I don't think anything is signed off," Smith told Sportal.
"He's a good mate of mine and I've played a lot of rugby with him. It will be good for the team but it has to be managed right.
"There is a process to go through and if he's a good fit for the Hurricanes... We had the same discussions last year and Hammett was keen to have those discussions but didn't think the timing was right. But he was happy to look at it again this year.
"It's not a personality thing (with Nonu). It's how he fits into the Hurricanes and if we're ready for it. Personally I'd love to have him alongside me again."
"Bringing a player that influential back into the team we have to make sure the whole team is happy with it.
"I'm not saying anyone's not... in fact from what I've heard everyone is positive. It is a big decision and that's why you have to go through and make sure everyone is okay."
Smith has spoken to Nonu about returning and the Hurricanes' new culture and he believes his All Blacks midfield partner would buy into how things were now being done off the field.
"Hopefully he sees how much it has changed when he's back as well," added Smith.
"But I think Ma'a has changed a fair bit in that time too.
"If the stars align and everything works out I think it will be great for the club to have him back in the Hurricanes playing really well."