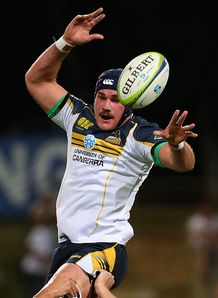 Related links
Teams
Brumbies captain Ben Mowen believes his side will face the Highlanders in the play-offs in Canberra next weekend.
Mowen hailed his troops after they secured their spot in the play-offs with a 47-25 win over Western Force in Canberra on Friday.
It was a winner-takes-all Australian derby with both teams level on 40 points and needing to win to take their place in next week's top-six play-offs.
The result was the Brumbies' biggest win of the season and puts them in great heart for next week's play-off.
The two-time champions will have to wait until the result of the Highlanders' match on Saturday with the Crusaders to see whether they keep hold of fourth place and a home play-off next weekend.
"To get a score like that in the final round when a finals spot is on the line is a really pleasing result," said Mowen.
"I think we'll play the Highlanders next week, the Crusaders will be really strong at home but we'll sit back and wait and see."
Force captain Matt Hodgson said despite the loss it had been a great season for the Perth-based side.
"We've learned how to win consistently and it's now just a case of learning how to play those big games like tonight and we'll improve again next year," he said.