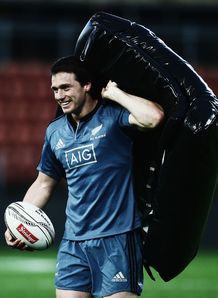 Related links
Teams
After passing his first start at full-back for New Zealand with flying colours, Ben Smith is ready for whatever weather in Hamilton.
Playing under the Forsyth Barr roof offered the Highlanders' 15 a sense of familiarity last week as New Zealand defeated England 28-27.
Smith won rave reviews for his performance in an outstanding runout in place of Israel Dagg, reverting to his natural position.
Now selected again at full-back for the third and final clash, Smith is ready to make the necessary adjustments to cope with the conditions should the rain fall down at Waikato Stadium.
"You've always got to prepare for all the different conditions you can get," Smith told the Waikato Times.
"Obviously if it rains you've got to adjust in a few different ways, particularly by getting closer, but hopefully it's a nice day on Saturday and both teams can play enjoyable rugby that the fans want."
Smith stated that there will still aspects of his game to work on, despite impressing so greatly in Dunedin.
"Looking at my game there were a few different areas that I could have done a bit better, just a few decision-making things that I probably need to improve in," added Smith.
"But you're looking to go out there every week and give the best performance you can and this weekend is another chance to do that, I think."
The All Blacks will also be wary of England employing a greater kicking offensive than in recent matches.
"We've got to prepare throughout the week for the aerial game they could employ; making sure when they put kicks up we're confident coming through onto the ball."