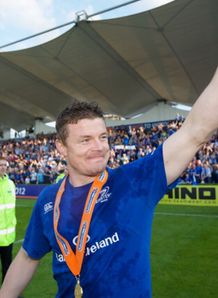 Related links
Teams
As Irish rugby enters a new dawn following the retirement of Brian O'Driscoll; the time is right to consider the enduring legacy of the player, as well as saluting the inestimable impact he had on the game in Ireland.
To understand the extent of the contribution O'Driscoll made to Irish rugby, you have to understand the circumstances that pertained prior to his arrival.
Before the Dublin superstar's accession to the national side, Irish rugby was a rather sterile and under-whelming brand. Throughout the late 1990s, the emerald isle was annual contenders for the dreaded wooden spoon, and regularly struggled to secure wins even against second tier nations like Italy and Argentina.
When a rookie O'Driscoll made his international debut on Ireland's summer tour to Australia in 1999, the men in green were no world-beaters by any stretch of the imagination.
Such was the perceived calamity afflicting Irish rugby at the turn of the millennium, the IRFU even commissioned an inquiry into the state of the Irish game; following the national side's failure to negotiate its way past the Pumas in the ill-fated World Cup play-off in Lens.
Such was the pervading feeling of doom and despondency within the Irish game post the Lens debacle, few observers gave the team much hope of affecting a revival.
It would be disingenuous in the extreme to suggest that the subsequent upturn in national fortunes is the sole responsibility of the celebrated centre. It is an undeniable truism, however, that the assumption of professionalism revolutionised Irish rugby; and when the IRFU made the bold decision to invest its four provinces with fully professional status, the foul tide of perpetual under-achievement began to turn.
The ensuing fifteen year period that was hyperbolically christened the "golden era" yielded a mammoth twelve trophies for Irish rugby, including the holy grail itself: the Grand Slam of 2009. This venerable haul of silverware demonstrates just how far Irish fortunes have improved in the intervening years, and the way in which the team has returned to the pinnacle of northern hemisphere rugby. The single most important figure in this renaissance was unquestionably Brian O'Driscoll.
I first heard about Ireland's prospective superstar when I was at university in Dublin. I am the same age as the distinguished centre, and I can remember rumours first circulating of his special talent at that time. The first time I saw him play in the flesh was actually a "Colours Game" (Trinity College, Dublin vs. University College, Dublin). Drico was a key component of a fine UCD team, the product of a superb collegiate rugby system that produced a succession of excellent players under the tutelage of coaches, John McLean and Lee Smith.
The skills were obviously quite raw at that stage, but even then; it was clear he was the best player on the pitch. While I had no idea how good this precocious centre would become, I didn't have to wait long to find out, as he made his Ireland debut just months later.
All of a sudden, Irish rugby had a new hero, replete with blistering pace, and an unerring eye for the gap. In addition, much like his good friend Jonny Wilkinson, BOD was as accomplished a tackler, as you'll ever see. And even when the gas deserted him, Ireland's talisman compensated with sheer rugby intelligence, to such an extent that his later decline was often imperceptible.
One of the biggest compliments he can be given is that Brian O'Driscoll remained the most valuable player for province and country well into his thirties. His place in rugby history is assured, and his loss will be lamented.
But life moves inexorably on. All good things come to an end. In rugby, one man's loss is another's opportunity. O'Driscoll's retirement may even help renew an ageing backline, and infuse Ireland with fresh attacking impetus.
Certainly in the likes of Robbie Henshaw, Darren Cave, and Luke Marshall, there is a succession of backs that are longing to be given a sustained opportunity to excel in a green shirt. Personally, I would love to see Tommy Bowe reprise the outside centre role he fulfilled so impressively during his stint with the Ospreys.
The new era has already begun in Argentina and, it will be fascinating to see how the potential successors perform. Ireland's coach needs to see beyond the vast spectre his most recent retiree, but nonetheless BOD's remain big boots to fill.
So, as Ireland's icon begins the next phase of his life: just where does he stand in the pantheon of Irish greats?
Admittedly, I never saw Willie John McBride, Jack Kyle, or Mike Gibson play rugby; but I have witnessed some phenomenal Irish players. In my lifetime, I have been privileged to enjoy the careers of such greats as Keith Wood, Ronan O'Gara, and Paul O'Connell.
All were extraordinary rugby players, but none was a patch on the former Blackrock College pupil. And while I have no reason to dispute the brilliance of Gibson and Kyle, I somehow doubt they tackled like flankers. Brian O'Driscoll is simply the greatest Irish rugby player there ever has been, and it has been my pleasure to watch him in action.
This writer will certainly miss the vicarious joy gleaned from watching Ireland's golden generation, but Irish rugby is already looking to the future, a new dispensation that is looking very bright under Joe Schmidt.
As the great one stands down from his playing duties, Irish fans can only record their gratitude, and wish him well in his future endeavours. It is apparent that some people are agnostic, if not openly sceptical, about whether a sportsman can truly be termed great.
But we can say with certainty that a whole generation of Irish rugby fans will always believe in BOD.
By @RoryMcGimpsey