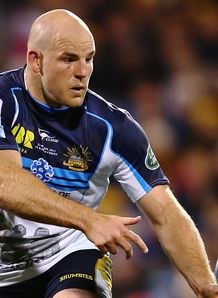 Related links
Teams
Brumbies hooker Stephen Moore feels his team can't afford to be distracted by the prospect of facing former coach Jake White on Saturday.
White guided the Brumbies to last year's final, where they lost to the Chiefs, but he left the Canberra-based franchise midway through a four year-contract before joining the Sharks.
This weekend he returns to Canberra for the first time since making the switch and with the two teams occupying the top two places on the table, there's plenty at stake.
With the Brumbies in second spot many of White's critics believe his departure hasn't done much damage to his former team.
But Brumbies captain Ben Mowen admitted earlier this week that there would be mixed emotions amongst the Brumbies players about their former coach's return.
Moore played it down and said the whole thing wouldn't be an issue. He said he wouldn't think about it until after the game when he had a chat with White.
''There is a lot of peripheral stuff,'' Moore told the Sydney Morning Herald.
''That stuff can only be a distraction. We're playing the top team in the competition, so that's the important thing.''
The Wallaby veteran admitted that he was somewhat surprised when he heard that White was leaving the Brumbies last October, but he has moved on since then.
''I'm fine with it,'' added Moore.
''It's not an issue. That stuff happens in football. It's happened before and it will happen again.''
Brumbies front row Ben Alexander said they wouldn't be making any major tactical changes this weekend just because White had inside knowledge of their structures.
''You've got to try and find what's been working well for you, refine it and stick to it,'' he said. ''Not change it because the opposition might know what's coming.''