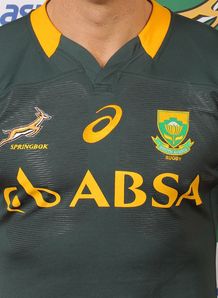 Related links
Teams
A new Springbok jersey, manufactured by new official technical kit sponsors ASICS which will be used for the first time in June, was revealed in Cape Town on Thursday.
Jurie Roux, CEO of the South African Rugby Union (SARU), said this new sponsorship ushered in an exciting new era for the Springboks and all other national teams as they aim to continuously raise the bar in performance.
"Ever since we've announced our sponsorship with ASICS last August, excitement has been building towards the big reveal of the new Springbok jersey," said Roux.
"Apart from the technological advances we've seen in the manufacture of this new jersey, the designers at ASICS have done a superb job in ensuring the honour, heritage and tradition associated with the Springboks' traditional green and gold have remained intact."
SARU's contract with ASICS runs for six years and as part of this deal, ASICS made a commitment to manufacture at least 70% of its licensed supporter wear in South Africa.
"We came to South Africa with the long-term view that we would use the SARU deal as a foundation for setting up ASICS in South Africa," said Max Keen, ASICS Brand and Sports Marketing Manager.
"We believe that it is to everyone's advantage if we produce the SARU merchandise locally. Our long term aim is that we develop South Africa as an ASICS manufacturing center of excellence for all our product ranges."
The Springbok team will run onto field in their new jerseys for the first time when they take on the World XV on 7 June in Cape Town.