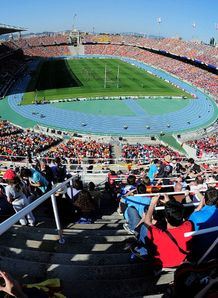 Related links
Also see
Threatened with the prospect of relegation, Perpignan will be fighting for their place in the Top 14 as they host Toulon in Barcelona on Saturday.
With only two rounds of the regular season left, Perpignan are just two points clear of the relegation zone and face a mammoth task if they hope to avoid joining Biarritz in the ProD2 next term.
First they face the champions of Europe in a massive clash that has been moved cross the Spanish border to the Barcelona Olympic Stadium before travelling to Clermont, where victory is considered to be a near-impossible target for any visiting side.
A precious success last week against fellow strugglers Oyonnax has kept USAP above water, but beating Toulon, who are gunning for automatic semi-final qualification, will be a much tougher ask.
The return of James Hook to the number 10 jersey proved an influential move last week as Perpignan finally found some attacking rhythm. With the backing of the Catalan fans in Spain, head coach Marc Delpoux hopes they will earn the right to stay up by playing some attractive rugby.
"We put some good phases together (against Oyonnax), we got back to what we were doing a few months ago but the finishing was catastrophic," Delpoux told Rugbyrama.
"We missed two tries with three-on-one, five metres from the line. Against Toulon, we can't afford to miss opportunities like that or we'll regret it.
"But it's encouraging that everyone understands that, despite the stress, we need to play some rugby to get out if this."
Perpignan have played two games in Barlecona before, beating Toulon in 2011 and Toulouse in 2012, both in Heineken Cup play-offs.