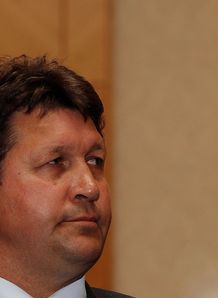 Related links
Teams
Newly-appointed director of rugby Gert Small has immediately busied himself with shoring up the Stormers' faltering lineout.
Smal's pedigree as a set-piece technician is considerable, and he aims to help forwards coach Matt Proudfoot deal with maddening inconsistencies in the pack's scrum and lineout.
Head coach Allister Coetzee, taking serious flak from fans after a disastrous start to the Super Rugby campaign, winning one game from seven, admitted the set-piece needed serious work.
With the Stormers granted a bye this weekend, he and the management took stock of the side and its deficiencies, with scrum and lineout failings pinpointed as areas for improvement.
"We did some stock-taking this past week when we had the bye. Although the players were off, we as the management worked on Monday, Tuesday and Wednesday, and Gert, as the director of rugby, joined us. We assessed everything, took a good look at where we are, what our plans are, and whether the plans suit the personnel we have, or vice-versa," said Coetzee.
"We concluded that not too much change can be made. The defence is strong it gives you a platform, but the focus that came out of the stock-take, and this shouldn't be a secret, is that we need to get our set-phase play to be more consistent. If you consider that the Waratahs scored a try off our put-in at a defensive scrum, we conceded 13 point in all in that game at defensive set-pieces.
"There were scrum penalties, and we know we are going to have to sort out our exit set-pieces before we can go anywhere. Exit set-phases are critically important, and that is why Victor Matfield is back playing for the Bulls again. When he is there the Bulls set-piece functions. You can see the experience he brings."
"It was good to hear what Gert thinks when we sat down and did our planning. And it was particularly interesting to hear about the challenges that they are sitting with in Ireland. What has happened to us is not something that has never happened to others in this sport before. Of course Gert brings a great deal of expertise.
"Of course when it comes to the lineouts, Gert has spoken to Matt. He has seen it from an outsider's perspective, and brought in some new ideas. Gert is still trying to catch up with where the team is. But the problems that have been identified so far are the areas that we have been working on. We just have to get a win and turn the corner as a unit."